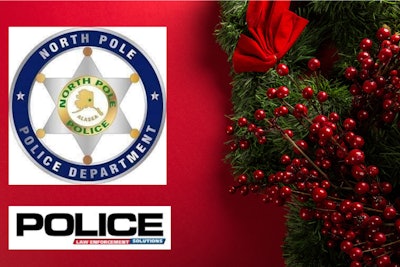 Every cop knows what it is like to work holidays and be away from family and loved ones because duty calls. So, for those who have to work Christmas Eve or Christmas day this year, POLICE Magazine decided to see where we could find the best advice for those scheduled for duty.
First, we thought we could reach out to Santa at the North Pole, but that had to be cleared by his PIO. Santa's media person has yet to return our call, but I guess they are slightly busy this time of year.
So, we turned to the next option and contacted the North Pole Police Department.
Yes Virginia, there is a North Pole Police Department, and it is found in Alaska.
The North Pole Police Department may be small, staffed by about 15 or so officers, but it knows about the holiday spirit. We've been told there is always snow on the ground every year at Christmas and often fresh snow is falling on Christmas morning.
Lt. Jed Smith, of North Pole PD, was quick to lend us a hand on behalf of his department and provided some great tips for those officers scheduled to work the holidays.
His tips are:
1.

Stay Frosty
Just because it's Christmas doesn't mean that danger has taken the day off. Keep your wits about you. Pay attention to your surroundings and don't ever let your guard down. You know how to take care of yourself. Remember, to your family, coming home safe is the greatest gift you could ever give them.
2.

Pursue the Naughty
It's the holidays, but that doesn't mean you get to stop being proactive. There are always questionable characters out looking for an easy opportunity. Christmas and New Years are some of the best times to conduct a few extra security checks. Drive the neighborhoods. Talk to folks. Make sure that car is just visiting, and not scoping out the neighborhood for some more free gifts.
3.

Protect the Nice
Everyone deserves a safe and peaceful holiday season and an enjoyable time to reconnect with family and friends. But sometimes things don't go according to plan. Just like any other day, that's where you come in. Just don't let an extra helping of holiday stress and emotion keep you from solving the problem. I know, I know. It took 10 years for them to get to this point. Still…be a peacemaker.
4.

Be Grateful
Yes, you have to work on Christmas. No, it doesn't always seem fair. But remember that even though you might be writing reports while other folks are opening gifts, you have a good job, in a noble profession. Not everyone can say that, especially right now. Did you know that policing is still one of the best jobs out there? And if you are working on Christmas, someone thought you were worth putting to work. So don't waste the day with a bad attitude. Always be grateful.
5.

Check That List
There is almost nothing more enjoyable than picking up a good warrant arrest or two on Christmas, New Year's, or Thanksgiving for that matter. Yes, the DA might dismiss the case, but you get the satisfaction of knowing that your special someone won't be opening their presents or cutting into a juicy Christmas turkey. Don't want to spend the holidays with Officer Friendly? Don't ignore the law!
6.

Tis the Reason
Most people seem to believe that Christmas is all about tinsel, trees, and twinkling lights. Not so! Take a minute to remember something that is worth celebrating. "For unto us a child is born, unto us a son is given: and the government shall be upon his shoulder: and his name shall be called Wonderful, Counsellor, The mighty God, The everlasting Father, The Prince of Peace." Isaiah 9:6
7.

Deck the Calls
Don't forget, every time you take a call, you have the opportunity to improve the relationship between a police department and the community that they serve. Whether that call for help drops on Christmas or not, you need to always deck your response with professionalism, compassion, excellence, and empathy. You can't fix everything, but you certainly don't have to make anything worse.
8.

Go Tell It in Dispatch
So, you have to work on Christmas... well, just because you are missing your family doesn't mean you have to treat dispatch like the annoying uncle that nobody likes. Dispatchers are giving up their Christmas dinner too. Except instead of being able to drive around and look at all the lights, they're staring at a computer screen. So, if you don't get your readback right away, be patient, it's a great opportunity to let your dispatchers know how much you appreciate them.
9.

Make a Resolution
The holidays only come once a year. That means it is a good opportunity for you to stop and think. The best way to make it through a law enforcement career in a healthy way is to have your personal priorities straight. Is the job the most important thing in your life? If so, you probably don't mind working on Christmas, but you are also a little out of balance. More importantly, your family is paying a price that they can't afford. If you need a change, make a resolution and do it.
10.

Be Thankful
Sure, you might not have a true love. You also probably aren't interested in any partridges or pear trees for that matter. But can you think of 12 things to be thankful for this holiday season? Clear that call, take a minute and consider all the things that you have that you don't deserve. If some of those things happen to be people. Tell them. Thankfulness is worth its weight in gold.
Merry Christmas
POLICE Magazine would like to thank Lt. Jed Smith and the North Pole Police Department for helping with this special holiday story. We wish them, you, and every officer and department out there a very Merry Christmas and a Happy New Year. Stay safe out there.