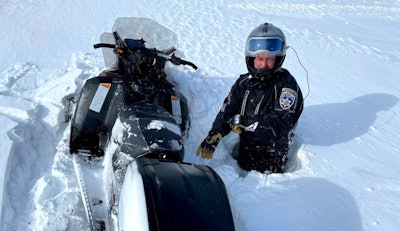 As cold weather threatens much of the country, cops cannot simply stay inside and seek warmth. They are out there working traffic stops and accidents, searching for lost individuals, staffing special details, and much more. So, what can an officer do to stay warmer?
Along the shore of Lake Erie in New York, the Erie County Sheriff's Office is prepared for any and all cold weather situations. Sgt. Jordan R. Grabar, of the special operations division (K9 - Marine - Snowmobile – ATV), knows what it is like to face brutal cold while staying on task. He is in his 20th year with the Erie County Sheriff's Office, a department of about 1,500 sworn officers.
"Believe it or not, being in the cold is something you kind of do get used to. But if you're not prepared, it's a bad idea. But you do get used to it being your normal kind of day to day," he says.
"You build up your equipment list over the years, things that work and things that don't work, things that are comfortable and things that are not, and you just kind of roll with the punches. A proper pair of boots goes a long way keeping your feet warm and learning how to put layers on and take layers off just becomes part of the program," Grabar adds.
In the western New York area, conditions and temperatures can fluctuate constantly throughout the winter. He points out how today it is 29 degrees and on Friday it will be 11 degrees, but the days in between are predicted to be around 48. Sometimes he says the temperatures even fall below zero degrees Fahrenheit. Overall, the normal temperatures during the winter are in the teens and 20s, Grabar says.
"We get all the extremes fairly regularly, a front will roll through, and it gets a lot colder and then that moves out and it gets a lot warmer," he explains.
Grabar says a foot or two of snow is normal, but around Thanksgiving six feet of snow fell on Erie County.
"Every couple of years we get a big one. That's one of the bigger ones, but luckily we didn't have the wind to go with it. That's what creates blizzard conditions where the wind is just blowing the snow everywhere and it creates drifts," says Grabar. "We had our snowmobile and ATV guys out during that storm in November picking people out of their cars that were stuck off the side of the road, and there was no way they were going anywhere for a couple of days. It's an interesting, interesting scenario."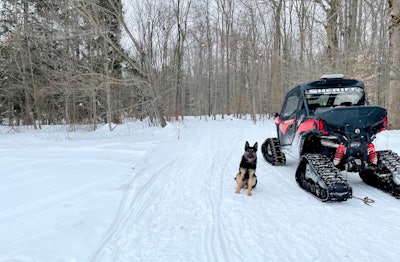 The Erie County Sheriff's Office has stepped up its game during Grabar's tenure. His agency, and others in the area, do things like shut down parts of the interstate so tractor trailers do not end up stranded in the snow and some municipalities implement travel bans.
Past using regular patrol vehicles, the sheriff's office can deploy special assets like the snowmobiles and UTVs to shuttle personnel back home or bring them to work, rescue stranded motorists, and help those who need to get to dialysis or other important medical treatments.
"We do our best to get out there to make sure people are still getting the care they need," he adds.
With 20 years of braving the cold each year since donning the uniform, Grabar has learned what it takes to stay warm and keep functioning. He knows a few tricks any officer can use to stay warmer.
His tips to staying warm on duty are:
1.

Be Prepared

Keep a "Go Bag" with you in your vehicle. Pack it with spare socks, a winter hat, gloves/mittens, and hand warmers. Having items, you don't ever think you'll need will come in handy when you do.
2.

Dress In Layers

Wearing multiple layers of clothing can help to trap heat and keep you warm. Choose materials like wool, fleece, and synthetic insulation to help retain heat. Utilize a moisture-wicking base layer. What touches your skin matters; synthetic or wool is best. An insulation layer is next, then, if needed, a wind-blocking layer or hard shell. Aside from your base, layers should be loose and dry. A fleece works great as insulation. That long fluorescent traffic/raincoat you never want to put on works wonders at trapping heat and keeping the wind off your body.
3.

Keep Moving

Try to keep moving to help generate body heat. Clothes do not produce heat; your body does. Take breaks in a warm area if possible.
4.

Avoid Sweating

If you sweat, you're wet. If you're wet, you're cold.
5.

Adjust

Vary your layers as needed to stabilize your temperature. Use zippers to vent. Remove your hat if needed.
6.

Eat More

Calories are needed to fuel your body's internal generator. Having snacks on standby is never a bad idea.
7.

Hydrate

While difficult to tell at times, it is not difficult to dehydrate in cold weather. Water, electrolytes, and a warm cup of coffee to assist can go a long way to help stabilize your temperature.
8.

Insulated Boots/Gloves

Your hands and feet are particularly susceptible to losing heat. Invest in quality boots. Paired with wool socks, properly sized insulated boots will keep your feet from causing you to make an early retreat. Not wanting to encumber your hands from accessing vital equipment while on patrol is understandable. Use some sort of glove, have actual winter gloves available, and stick some hand warmers in your pockets.
9.

Cover Everything

Don't let the wind win.
10.

Buddy System

Look out for yourself, but also look out for each other. Keep an eye out for fellow officers that may be having a problem, lend some gear from your "Go Bag" (be sure to get it back), and use a rotation of time on a post and time in a vehicle to warm back up. Don't forget about your canine's needs as well. Their fur coat is helpful, but they have the same concerns as you regarding hydration, foot (paw) care, and temperature regulation.