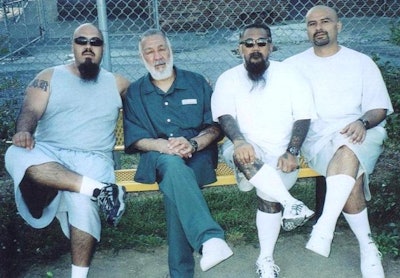 Peter "Sana" Ojeda, the Mexican Mafia's "godfather" in Orange County, Calif., celebrated his 68th birthday in April as a federal prison inmate. Ojeda's suprise birthday present from law enforcement came three months later when 500 officers fanned out and arrested 99 members and associates of the Mexican Mafia during Operation Black Flag. This case resulted in five federal indictments and numerous state felony charges.
On July 13, 26 of the 57 federal defendants were arrested, according to the Santa Ana Gang Task Force's press release. Twenty-five suspects have already been incarcerated on unrelated charges and six are considered fugitives.
Operation Black Flag was another "staggering and comprehensive blow" to California's most powerful gang, according to U.S. Attorney Andre Birotte. However, the La EME prison gang has proved to be resilient to extermination. Mexican Mafia leaders have managed to operate their criminal enterprise from the most secure housing units in the most secure prisons in America. It is Ojeda's ability to control criminal gangs on the streets of Orange County while in federal prison that resulted in a federal grand jury's five-count indictments — two include charges of RICO violations.
"Today's charges demonstrate that the Department of Justice is committed to dismantling the Mexican Mafia and the street gangs associated with the Mexican Mafia," says Birotte. "No member affiliated with the Mexican Mafia is beyond reach of the law. Working with our partners at the state and local level, we will bring gangsters to justice, whether they commit their crimes on our streets or in our prisons."
Apparently supported by Mexican Mafia members who opposed Sana Ojeda, gang rival Armando Morales took advantage of Sana Ojeda's incarceration to try to wrestle control away. Using his power as an Eme member, Ojeda had forced Orange County street gangs to pay taxes (tribute) to him. Morales attempted to take over these payments and ordered the elimination of any gang members still loyal to Sana.
The Orange County Mexican Mafia indictment charged a faction of EME headed by defendant Peter Ojeda with conspiracies to commit murder, extortion and narcotics trafficking. Associates from F-Troop, Delhi, Highland Street, Orange Varrio Cypress, East Side Santa Ana, Little Hood, McClay, Townsend and Forming Kaos (FK) gangs functioned as continuing criminal enterprise for the common purpose of achieving the objectives of the enterprise.
It's interesting to note that the wives and girlfriends of members and associates of the criminal organization also engaged in conspiracies to commit murder, attempted murder, extortion, narcotics and firearms trafficking for monetary gain. In TV news coverage of the takedown, the display of weapons included numerous handguns, AR-15/16s, AK-47s, MAC-10, UZIs, and even an old Lewis machine gun. Hit lists known as Green Light lists and "hard candy" lists were knowingly passed by these women, which resulted in individuals being targeted for assaults and murder.
A second and separate RICO indictment charges the Forming Kaos (FK) gang as a criminal enterprise whose members and associates also engaged in conspiracies to commit murder, assaults with dangerous and deadly weapons, extortion, narcotics and firearms trafficking for monetary gain.
Although most of the people indicted in Operation Black Flag are not actual members of the Mexican Mafia, it does effectively target the street gang leaders and associates of these Sureño gangs that form the Mexican Mafia's vast army of supporters.
Many of these gangs have deep roots and long histories in Orange County. However, different genetic and evolutionary lines spawned some of the more recently formed gangs, such as the Little Hood and Forming Kaos gangs. Little Hood was formally called Lil Breakers and Forming Kaos was formally just called Kaos. These two gangs came out of the dance crews and tagger crews of the 1980s.
In the years since the 1990s, when the Mexican Mafia first ordered these non-traditional gangs to join local barrios or die, these gangs have morphed into dangerous and sophisticated traditional turf-oriented Latino gangs. These newly evolved gangs have become strong Sureños and future members of the Mexican Mafia. They're among the most committed Eme followers and don't take a back seat to established gangs such as Delhi or F-Troop.
"Defendants who commit crimes to glorify their gangs and continue to commit serious crimes behind bars are some of the most dangerous individuals in our society," said Orange County District Attorney Tony Rackauckas. "The only place they belong is in prison and the Orange County District Attorney's Office is committed to keeping them there for the rest of their lives."
The roots of the Orange County Latino gang problem reach back to the 1940s. The local street gangs that would later be called the Delhi and F-Troop street gangs started out with other names. The 1940s-spawned Glorietta gang evolved into Delhi, taking its name from Delhi Road, which was renamed as Warner Avenue.
The F-Troop gang takes its current name from a 1960s TV comedy about a zany unit of wild west U.S. Calvary troopers who can't seem to do anything right. The gang was known by other names until finally settling near First and Raitt streets in Santa Ana in the mid 1960s. F-Troop formed numerous sub-cliques, growing in numbers and strength until the early 1990s when several of these cliques broke away from the powerful El Salvador Park clique and became rival street gangs.
In January of 1992, Orange County's Mexican Mafia "Godfather" Peter "Sana" Ojeda called the leaders of the rival Orange County street gangs together in a meeting at El Salvador Park in Santa Ana. Other Mexican Mafia members present at the meeting included Delhi member Michael "Muscle Head" Salinas, and F-Troopers Raymond "Champ" Mendez and Art Romo. Ambrose "Sporty" Gil from White Fence was also present to represent his relatives in the area.
This was the first of many meetings ordered by the Mexican Mafia that called together street gang leaders from all over Southern California in Los Angeles, Kern, San Bernardino, San Diego and Riverside counties. The infamous Eme taxation policies and no-drive-by edicts were given and enforced at these meetings.
In December of 1993, Sana Ojeda would be arrested by federal agents in a weapons sting called Operation Green Ice. Later "Spider" Gil would fall to California's Three Strikes Law for possession of a couple of codeine pills, and Art Romo who was also an associate of the Calli Columbian DTO was taken down with fellow F-Troop gang members and 260 plus kilos of cocaine.
This would later seem auspicious for them because it would prevent their indictment in the Los Angeles Metropolitan Task Force's Mexican Mafia RICO of 1995. Among the 21 Eme members and associates convicted in the L.A. RICO was Orange County Mexican Mafia members Muscle Head Salina and Champ Mendez. At the time Mendez was an employee in the office of the Orange County Public Defender.
Sana Ojeda would soon return to Santa Ana to continue his control of Orange County Latino gangs. The Orange County offices of Glenn Osajima and Shirley MacDonald (wife of Eme associate Albert Juarez) became the go-to source for Mexican Mafia defense attorneys. But Santa Ana defense attorney Alfredo Amezcua was Ojeda's favorite, and he was also the legal and political advisor to Eme and Calli Cartel associate Art Romo. Alfredo Amezcua was also an advisor to the Orange County Gang Council. This friend and advisor to the Ojeda faction made a run to be elected as Santa Ana's mayor in 2010.
Related:
When the Mexican Mafia Takes Out a Pawn