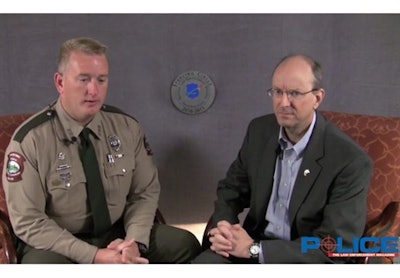 National Police Week honors the fallen, the nation's law enforcement officers we remember as "some gave all" to keep our communities safe from violent criminals.
As editors, covering the event can be a sobering experience. We're familiar with many of the names on the wall because at PoliceMag.com we tell their stories when we write a news story or article about a line-of-duty death.
The fallen heroes must be remembered, as Craig W. Floyd, chairman and CEO of the National Law Enforcement Officers Memorial Fund (NLEOMF), reminded us at the candlelight vigil, in this way — "It's not how these officers died that made them heroes. It is how they lived."
National Police Week also reminds us of the close calls of officers whose actions put them on the winning side, such as the NLEOMF's officers of the month, which are honored at a luncheon.
The 2010 officers of the month included 10 males and two females, a federal park ranger, state trooper, corrections deputy, the Seattle officer who ended the manhunt for Lakewood cop killer Maurice Clemmons, and the Arkansas wildlife officer who rammed two sovereign citizens who killed West Memphis PD's Sgt. Brandon Paudert and Officer Bill Evans.
We captured five of these stories on video, as POLICE Editor David Griffith sat down to interview these officers. Click on the photo to view the clip.
First up is Officer Matthew Medeiros of the Boynton Beach (Fla.) Police Department, who was picked as NLEOMF's January Officer of the Month for providing crucial aid to a sergeant during a gunfight with a parolee.
VIDEO: Backup for a Florida Sergeant
Next is Seattle Police Officer Ben Kelly, who was picked as the March Officer of the Month for finding and engaging the man who murdered four Lakewood (Wash.) PD officers at a coffee shop.
VIDEO: Face to Face with the Lakewood Cop Killer
Michigan State Trooper Kevin Caldwell was picked as the June Officer of the Month for coming to the aid of a municipal officer taking fire from an enraged home owner.
VIDEO: Gunfight on the Way Home from Church
Knoxville (Tenn.) Police Officer Daniel Paidousis was picked as the September Officer of the Month for identifying a suspect in a murder investigation between calls for service.
VIDEO: Identifying a Murder Suspect
And finally, Wildlife Officer Michael K. Neal of the Arkansas Game and Fish Commission was picked as the October Officer of the Month for stopping two sovereign citizens from killing more people by ramming his truck into their vehicle. We've also posted the initial video from the incident, including the dash-cam footage of the initial West Memphs PD traffic stop and the Wal-Mart surveillance footage showing Neal's truck stopping Jerry and Joseph Kane.