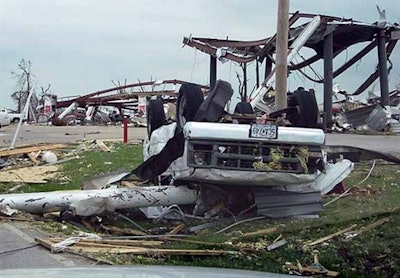 After my wife and I retired from the San Diego (Calif.) PD, we finally made our dream move to just outside Joplin, Mo., to 20-some wooded acres. We live the classic country life, shoot and hunt on our land, and have a big John Deere with all the fixings. We felt a part of the community almost immediately, having made solid friends and good neighbors.
When this tornado hit, it missed us by a couple of miles but about 30 percent of Joplin looks like it was carpet-bombed. The degree of destruction rivals anything I'd seen from earthquakes and wildfires. I spent the first few days after the tornado in town helping out. I learned a few things that you might be able to add to your own bag of tricks.
It's a bigger mess than you can imagine from watching TV coverage. I delivered fuel, tools, and a generator to friends in town. I helped a few others get their generators going. Many professional emergency service personnel were on-hand immediately and plenty of food, water, and shelter appeared. The local churches really ramped up, and within an hour of the tornado's impact were offering shelter, food, clothing, and medical aid.
The National Guard arrived, along with officers, medical staffers, power line crews, and others from Missouri, Kansas, Oklahoma, and Arkansas. They know who to turn to around here, since they are pretty much pros at handling tornado damage, big floods, and such things. On Monday (the day after the tornado struck) main roads were fairly clear, power poles were going up, and water was being restored.
Local people have been clearing the smaller side streets using garden tractors with blades, work vehicles, and muscle. I saw lots of chain-saw action by citizens clearing roads for emergency vehicles. That was happening within minutes of the hit. The degree of mutual cooperation I've seen here has been astounding and shows the kind of can-do attitude by Midwesterners. Everyone here who was not injured did a few things in order. They self-rescued first, then helped neighbors, then helped their neighborhoods. People banded together to share food, water, tools, and help.
Emergency services began to respond immediately, spreading to all parts. Adjoining agencies don't ask here; they just come. Keep in mind the "completely flattened" area is about 3/4-mile wide and 6 miles long and runs right through the southern center of town. Over 2,000 residences and businesses were virtually cleaned off the map. This isn't counting surrounding ancillary damage. We had sustained 80 mph winds at our place but didn't lose any trees.
People are surprisingly positive. Lots of American flags and signs with, "We're here to stay and going to rebuild," as well as, "Looters will be shot. Survivors shot again."
My cop contacts said there have been only a few looter problems. They were quickly handled by cops or citizens and turned out in each case to be local career-criminal types.
We're personally well prepared with emergency supplies, fuel, propane, a whole-house generator, chain saws, tools, and even a tractor. Suzi and I have always felt strongly about that, and it's paid dividends in the past during emergencies. Both our primary vehicles are four-wheel-drive trucks. Having the right equipment handy (such as hand saws, digging and prying tools) is critical, and allowed us to move fast and help. I got my neighbor's generator going right after the hit, made sure our elderly neighbors had water, and made sure our own house and stuff was secure and undamaged. All power was out to most of Joplin and the surrounding areas.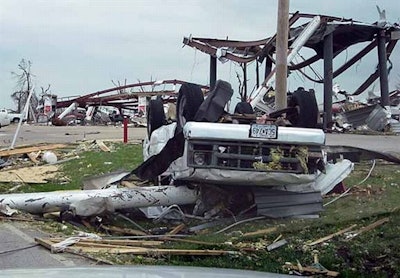 My neighbor offered his trailer for my tractor if I needed it in town, and I phoned the propane supply company the next day to see how supplies were if we needed them. Our 500-gallon tank, which was 70 percent full at the time, can run our generator 24 hours a day for about two weeks. We have well water and septic. With the generator, we were fine. However, a refrigerator only keeps food safe for about three or four hours at most, and a well-stocked freezer — if it's full, it keeps the cold better — can last up to 48 hours. You'll have to run your generator for a few hours, every few hours.
If you don't at least have a small generator, you're nuts. Go get a 5 kilowatt model and a few long extension cords. Have a simple junction box installed that allows you to switch off from the grid. You can then plug your generator directly into your home, and it will power what you want using the plugs in your house as usual. Depending on the size of the generator, you'll need to be careful what you run.
A 2,000-watt generator is as cheap as $250 and can easily run most freezers. Keep a couple of 5-gallon plastic gas containers stabilized with "Sea Foam" product. Use premium gas because it has no alcohol and is more stable. Every six months, put the gas in your car, and fill the cans again. A pain? Sorta. But when the power fails, you'll be so damn happy you did it.
The "slime" leak sealant for your tires is important, because you'll be stunned by the amount of nails, sharp metal, jagged glass, and worse on the roads. I saw vehicles with flats everywhere without counting the thousands of totally destroyed vehicles. I saw cars in trees, and big trees tossed hundreds of yards, including 80-foot oaks. And every tree in the path was stripped of bark. FEMA says that takes at least 160 mph. Our winds were over 200 mph. So far, we're the sixth deadliest tornado since records were kept, and FEMA says they have never seen this kind of damage from a single tornado.
Also, make copies of all your important documents and stash them in a "bug-out" bag. Your bag should have enough survival stuff to last you three days or so. Help got here faster, but you never know.
This tornado went from "no tornado" to an "EF5" tornado in the blink of an eye. Small communities two miles west of Joplin were unharmed as the storm passed over them. The funnels just dropped, hit the west side of Joplin, stayed down and in a straight line for 6 miles, then almost immediately went back to a nasty storm. Total time? About 10 minutes from start to finish.
Our NOAA storm radio had warned of a tornado watch, but never sent the alert of the actual event happening — the fact that a tornado had touched down. It happened so fast, it fooled everyone. The funnels — there were multiple funnels around the central one — were obscured by heavy rain clouds, and spotters didn't see the tornado as it began to touch down. As a result, sirens were late.
I hope people remember Joplin a month or three from now. I've learned it's a tough, well-bonded community. There's no doubt it will rise from the ripped trees and flattened devastation as a more modern, more energetic, and more proud community.
And, I wonder. Will you take the time to make your own bug-out bag, buy that generator, and be prepared if it happens to you? I wonder.
Roy Huntington is the former editor of POLICE and is now the publisher and editor of American Handgunner Magazine.