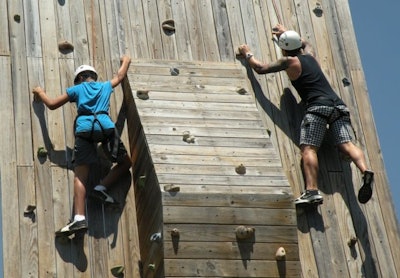 The surviving children of our nation's fallen law enforcement officers and their parents or guardians leave the comfort of their own homes and spend a week sleeping in bunkbeds or tents, eating camp food, singing silly songs, swimming in a lake, and getting a big dose of that irreplaceable camp commodity: lasting friendships.
This year, Concerns of Police Survivors, Inc. (C.O.P.S.) held the 17th session of Kids' Camp, from July 25-30, at the Salvation Army's lake camp in East Troy, Wis. During the week, 143 children ages 6-14 attended with 94 parents and grandparents.
Dedicated game wardens with the Wisconsin Department of Natural Resources helped ensure a smooth-running camp where participants took part in outdoor activities such as fishing from a bass boat, archery, T-shirt crafts, marksmanship with pellet guns or rifles, and canoeing. Activities were supplemented by the Salvation Army's lake camp staff who got both kids and adults up the climbing wall and high ropes course, zooming down a zip line, and working together to complete a low-ropes challenge course. A parent even got involved by teaching an energetic Zumba class.
Camp focuses largely on growth and healing through games and activities that build self-esteem while encouraging fun and laughter. However, each morning, professional counseling staff meet with campers and parents or grandparents in small groups to work through the issues of grief and loss that surround the death of an officer killed in the line of duty.
C.O.P.S. has found that this mixture of grief counseling and the excitement of more traditional summer camp fun can profoundly affect a child's journey of grief.
"Six years ago, I came to C.O.P.S. Kids' Camp for the first time with my oldest son," says Michelle Stanze-Colombini of St. Louis. "He was afraid to leave my side even long enough to take a shower. The second year was only slightly better. Anxiety ruled his life. This year, I barely saw him as he was off with his old friends, and making new ones. My timid, frightened little boy has turned into a confident young man full of compassion, and eager to help newcomers."
One of the most amazing things about this camp is the extraordinary dedication of members of the law enforcement community to making the children and parents feel welcome and safe. The Milwaukee County Sheriff's Office coordinates efforts with several other local law enforcement agencies to meet the families at the airport as they arrive, staff a welcoming hospitality room at the airport during arrival and departure, and provide a motorcycle escort for the buses between the airport and the camp.
Other organizations such as the Renegade Pigs Motorcycle Club particiapted by bringing ice cream sundaes as an evening treat for everyone. It shows families of fallen officers that the law enforcement community still cares about them, and acknowledges that their parent's ultimate sacrifice will not be forgotten.
For more information about Concerns of Police Survivors, Inc., and the programs offered each year to the surviving family members of law enforcement officers killed in the line of duty, contact the C.O.P.S. national office at 573-346-4911 or visit the C.O.P.S. website.