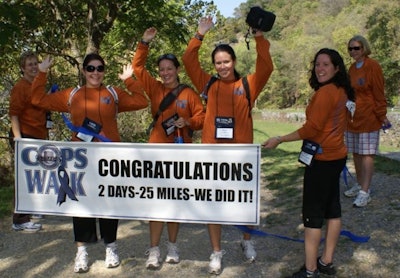 The Concerns of Police Survivors (C.O.P.S.) will host its seventh annual "COPS Walk" early next month to bring together survivors and members of the law enforcement community willing to accept the challenge of walking 25 miles in two days to support family, co-workers, and other supporters of fallen officers.
The COPS Walk will be Oct. 8-9, along the scenic, historic C&O Canal that runs from Virginia through Maryland and into West Virginia; participants will walk 12.5 miles each day. The walk raises funds to ensure that C.O.P.S. continues helping those who have lost a loved one in the line of duty. The organization provides services and programs that help those families rebuild their shattered lives. The walk provides other benefits. It's designed to give participants a physical challenge as well as the opportunity to spend time with other survivors and friends walking in memory of loved ones.
One such survivor, Joshua Campbell, will be participating in his fourth consecutive walk. Fallen Greenville (N.C.) Police Officer Jason Campbell, his brother, was killed in the line of duty on April 14, 2007.
"COPS Walk is one of my favorite weekends of the year because I reunite with a great group of people, both survivors and law enforcement," Campbell said. "The weekend gives us a chance to reflect on what's important in life, share the memories of our loved ones, and build lasting friendships. While honoring Jason's memory, I've been fortunate to meet so many wonderful people. It is important to honor the memory of our officers and to remember the families left behind."
Participants, the majority of whom are law enforcement survivors, are asked to raise at least $1,000 for C.O.P.S. Last year's COPS Walk was so successful that 104 walkers raised over $263,000. This year, the "Sleepwalkers" who just can't get out of bed are welcome. They're also asked to raise $1,000. Sleepwalkers will receive the gift of a pillow case for their bed, and the satisfaction of knowing they're helping rebuild shattered lives.
In 2012, Concerns of Police Survivors will be adding a COPS Walk Southwest in Phoenix/Tempe, Ariz. The walk is scheduled for March 10-11.
"This is an exciting expansion of a great event," says Carolyn Davinroy, C.O.P.S.' director of development. "We are looking forward to working with our Arizona Chapter of C.O.P.S. to put together an extraordinary weekend of friendship and fellowship that will allow us to further our mission."
Visit the C.O.P.S. Web site for more information on the organization or to support the 2011 COPS Walk. You can also visit Razoo to support your favorite walker. For any questions about the event, contact editor@policemag.com.