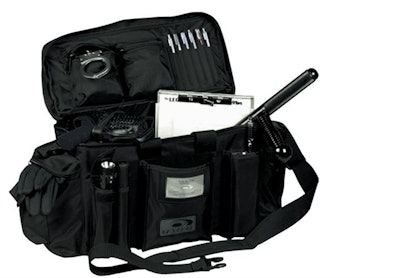 The other day while shopping with the wife, I came upon a backpack sale! Now, for those who don't know me, I have a few backpacks, briefcases, range bags, satchels and other assorted packs. It matters not what the mission, I could assault it with proper necessities of life with one from the Harvey collection.
Most of the younger generation grew up with book bags and backpacks, so you have a handle on this piece of equipment. There are some readers who are like me, searching for the perfect set-up. This is not a one-time purchase. I've gone through my share and now have a few go-to options for different missions.
Most recruits get a fancy, executive-type briefcase given to them at graduation. Two things happen here. First, you cannot get all of your patrol stuff in one of these. Secondly, you'll throw this exotic leather, gold-plated latched case in the back of patrol car where a smelly drunk has just hurled up $3 dollar wine.
Patrol briefcases are best described as soft filing cabinets. You'll need adjustable internal spaces, lots of pockets, and a good shoulder sling to hump it to the car. My advice is you can't get one too big—it will mysteriously fill up in a week—and you sure can buy one too small. The really good ones will cost you, but it's well worth the investment. If it can keep patrol stuff from becoming projectiles in a car, it's a safety device as well as an organizer.
Most of us have backpacks for the unknown missions of life. Through my years of getting called in for Emergency Operations Center (EOC) duties, I've had one packed. It was kind of like the U.S. Army days of having the "A" bag and "B" bag ready for deployment. Now, it's packed with a laptop, administrative stuff and the necessary items of life. Add a couple of knives and other accoutrements of life but when the call comes in, over my shoulder it goes. These are personal selections as to what its mission is going to be. The standard three-day mission pack is great for trips to the gym and out kicking around in spring or fall weather. Always pack a knife!
I don't carry a briefcase to work everyday. I have a great range bag that carries the day's worth of snacks, coffee, and other items. Range bags to me are the urban briefcase; depending on the size you can carry all of your work. Some will accommodate a laptop and others just have open space. Buy it in basic tactical black.
If you're in the academy or starting the job, don't buy anything yet! Several departments issue patrol bags. Speak to your Field Training Officer (FTO) for suggestions about where to buy and look around the locker room and see what other officers are using. I always recommend going to the cop shop or outdoor outfitter—do the see-and-touch drill. What may look great in a catalog or on the internet may not suit your needs. If you have a big clipboard or bulky piece of special equipment, take it shopping to see if it fits!
Don't let price scare you. Good quality bags or packs are an investment (at least this is what I tell my wife). Quality equipment saves you in the long run. Look for pockets, expandability, MOLLE-equipped, good shoulder carry, and durable are the words to look for. We live in a demanding world. The days of going out with stuff under your arm or in a sack are over.
We've learned it's better to have it with you than to want it later. Ergonomics, proper load distribution and safety of belongings are now the considerations. Yes, I can recall officers who carried everything in a box but they didn't maximize what they could have accomplished for they were too busy getting reorganized. Once you find that "right" bag for the job, it's often akin to an old friend; it gives you a comfort level that all of your good stuff is there and ready.