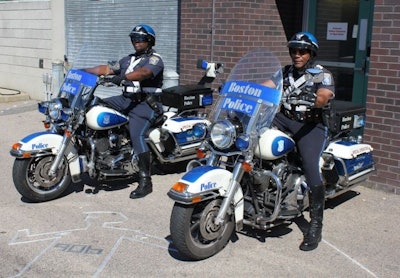 The U.S. Secret Service defers to the Boston Police Department when Mitt Romney needs a police escort. The security assignment for the presidential candidate falls to Boston PD's Mobile Operations Patrol (MOP) unit.
When Romney travels to or from fund-raisers and other campaign events, MOP officers lead the escort of "Javelin"—a code name referring to the pony car produced by Romney's father's company, American Motors Corp.
Mobile Operations Patrol is a multi-faceted specialized unit that demands its officers be proficient in motorcycle handling as well as tactical operations. Members of the unit also suit up as SWAT operators.
The MOP unit, which began in 1912 when two Boston officers began using their Indian motorcycles on patrol, is a part of the department's Special Operations Division that also includes specialized units such as the bomb squad, K-9 unit, harbor patrol, HazMat, and commercial enforcement.
Getting into the tight-knit MOP unit is a stiff challenge; staying there may be even tougher.
"Having the SWAT and motorcycle units together finds a way to defeat people, but because of the equipment and training the department gives us it's manageable," said Lt. Kevin McGoldrick, the unit commander.
Once an officer is accepted, he or she must complete the department's motorcycle training, and then its SWAT school. Only six officers aren't SWAT trained, including the unit's two female officers. A lieutenant oversees 50 officers and six sergeants with a waiting list of about 22 candidates from the pool of about 2,000 sworn personnel.
Mobile Operations Patrol officers handle executive and funeral escorts, crowd management, SWAT callouts, and traffic enforcement. They work on Harley-Davidson FLHP Road Kings or in two-man unmarked tactical cars.
Officers may have started on Indians, but the Boston PD has been relying on Harleys since at least the 1950s. The bikes bring a presence to big events, and have been a reliable workhorse for the department.
"The Harleys have visibility," said Lt. McGoldrick. "There's a lot to be said for a big motorcycle."
Two mechanics manage 60 H-D cruisers mostly from 2005 and sooner. The agency purchases up to six motorcycles a year to replace older models taken out of service.
When officers join the unit, they're issued a three-quarter helmet, pair of custom-made knee boots, eye protection, a winter jacket, pants, three pair of gloves (light-, mid- and heavier weight) for various climates, boot covers, reflective white cross wraps, an LED flashlight, and either a Glock G21 or SIG Sauer 1911.
Being on the unit doesn't bring much additional compensation. Officers are given an extra $6 a week, a carryover from an earlier time. Officers work four days on and get two off.
Being a member of the unit has its own rewards, and many of its members spend time at each other's off-duty events, said Sgt. Jack Mahoney.
"This unit, the guys stick together," Sgt. Mahoney said. "It's a tight unit."
Related: