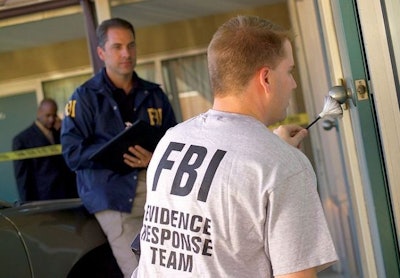 Editor's note: This special unit profile is the latest in a series of Web-exclusive career profiles on PoliceMag.com. Read more profiles here.
The FBI special agents who spearhead regional Evidence Response Team (ERT) units work closely with mostly non-sworn evidence collection professionals to process some of the nation's most challenging crime scenes, including the Boston Marathon bombing.
The agency's more than 1,175 ERT members, which include a variety of forensic specialists, respond to mass graves, airplane disasters, bombings, and other complex crime scenes. They collect and process every shred of evidence. The FBI now operates 141 ERTs through its 56 field offices.
On April 15, the Boston field office's ERT collected evidence at the Boston Marathon finish line, where a pair of homemade IEDs killed three and injured 264. By April 22, the Boston FBI field office released the scene back to the city of Boston in an informal ceremony.
Upon arrival at a crime scene, ERT members begin exhaustively searching the area. Members collect visual evidence using traditional and ultraviolet photography. They gather hair and bodily fluid samples. They also save digital information and devices from the scene. ERT personnel use forensic techniques such as fingerprint analysis, DNA sequencing, liquid and gas chromatography, and digital information recovery.
In the case of the Boston Marathon bombing, FBI team members pulled footage from the video surveillance cameras that captured the bombing aftermath and collected thousands of photos.
Following collection, the ERT then analyzes the evidence and presents its findings to FBI special agents. Forensic experts outline the sequence of events that led to the crime. Sworn personnel often serve in a supervisory role.
The size of each team varies, but there are at least six standard roles that include team leader, photographer, sketch preparer, evidence log recorder, evidence custodian, and evidence collector. Canine search units are often used to locate chemical substances or narcotics. For more challenging crime scenes, specialists can be brought in that include anthropologists, bomb technicians, and surveyors.
Field ERTs must be skilled in latent print development and collection, DNA and trace evidence collection, human remains identification and recovery, bullet trajectory analysis, blood detection and collection, and post-blast and arson evidence collection. Of course, evidence is analyzed at the FBI Laboratory at agency headquarters in Quantico, Va.
In recent years, the team has been sent out to give demonstrations for youth groups and students that to some degree function as a recruiting campaign.
"By meeting with these kids one on one, school by school, community by community, we hope to get them thinking about working at the FBI when they're older," says Dayna Sepeck, chief of the ERT unit. "We also hope that, as adults looking back on their interaction with us, they'll be fully supportive of our mission to protect the nation."
The pay grade for team members varies by assignment. Starting pay comes in at nearly $34,000 a year, and members with advanced degrees, military rank, or law enforcement experience can earn up to $120,000 a year.
During fiscal year 2012, ERTs conducted more than 1,200 searches, processed 600 crime scenes, and provided almost 400 training sessions for local and state law enforcement agencies, according to the FBI. Nearly half of all ERT responses involved violent crimes, while a quarter involved terrorism. Other types of cases worked during the year included investigations of criminal enterprises, cybercrime, white-collar crime, and public corruption.