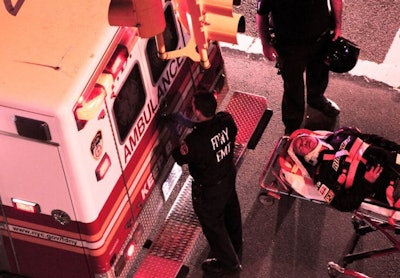 With the murder rate falling to a near-historic low in New York City, the NYPD has refocused its attention on a more pervasive life-taking hazard—vehicle crashes.
In March, the agency revamped its Highway Division Accident Investigation Squad, beefing up staffing, adding higher-tech tools, and broadening its mission to respond to serious, as well as fatal, crashes. The unit also got a new name: the Collision Investigation Squad.
The two dozen officers now assigned to unit investigate the dozens of accidents per day that could bring criminal charges. The unit has been profiled in several media outlets, including the New York Times, which broke the news of the revamp and published an in-depth look on Sunday. Read it here.
Officers in the unit, according to the Times article, "readily rattle off physics equations and discuss throw weights and friction coefficients like an odd hybrid of Sherlock Holmes and Bill Nye the Science Guy."
Additional resources have been added to the unit, including $400,000 in state money from DUI fines the help pay for additional investigations and new "3-D imaging centers" to help with accident reconstruction, reports the New York Post.
The trigger for a call-out by unit detectives comes whenever a paramedic lists a patient as critical. NYPD patrol officers will confer with medical personnel at the accident scene to determine whether to activate the unit, Commissioner Ray Kelly said in a March 4 letter to City Councilmember Peter Vallone Jr.
In the letter, published by the Gothamist, Kelly said agency policies have been revamped "to provide our patrol personnel with additional guidance when making a determination as to whether the injuries that have been sustained in a vehicle collision warrant notification" of the unit.
Kelly also said unit detectives will receive specialized collision investigation training.
Editor's note: This special unit profile is the latest in a series of Web-exclusive career profiles on PoliceMag.com. Read more profiles here.