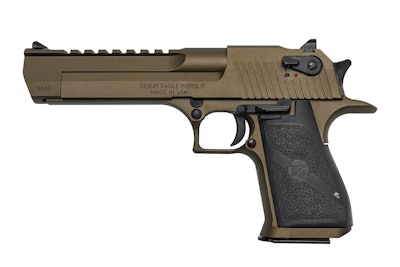 The manufacturing ingenuity behind USA-based Magnum Research, Inc. (MRI) has introduced the Mark XIX Desert Eagle .50AE (DE50BB) and .44 Magnum (DE44BB) in a new high-temperature ceramic Cerakote coating called Burnt Bronze. These two models are being offered exclusively to dealers through firearms distributor Bill Hicks & Co., Ltd.
The Cerakote coating is a multi-step process that results in a high-temperature ceramic coating that holds up well under normal use. The Burnt Bronze model has attractive black appointments, which gives the pistol even more appeal.
The Mark XIX Desert Eagle .50 AE is a gas-operated, semi-automatic pistol with a 7-round capacity in .50AE and 8-round capacity in .44 Magnum. The gun measures 10.75 inches in length with a 6-inch barrel, or 14.75 inches in a 10-inch barrel available in black as an aftermarket item. Width is 1.25 inches, height 6.25 inches, and the weight with an empty magazine is approximately 72 ounces. It has a trigger reach of 2.75 inches and a sight radius of 8.5 inches with the 6-inch barrel.
The new Cerakote Burnt Bronze Desert Eagle is offered in either the .50AE or .44 Magnum calibers. The MSRP is $1,696 and is exclusively offered through Bill Hicks & Co., Ltd.