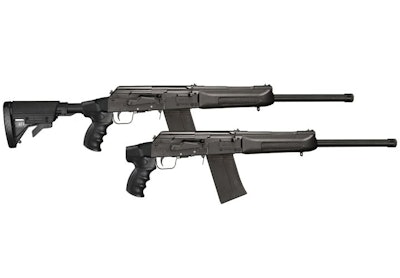 Advanced Technology International (ATI) has introduced the Saiga Talon Tactical Stock with Scorpion Recoil System, which includes a six-position buttstock with Scorpion Razorback Buttpad and Scorpion Rear Pistol Grip.
The Scorpion Razorback Buttpad gives users a non-slip, removable buttpad. Shooters will gain an ergonomic, Sure-Grip textured Scorpion Recoil Pistol Grip with the Saiga Talon Tactical Stock. The Scorpion Recoil system reduces the challenge of reacquiring the target by minimizing the muzzle lif, according to the company.
The Triton Mount System is constructed out of Military Type III anodized 6061 T6 aluminum. The dovetail mounting system securely fastens an ATI Tactical stock or Rear Pistol Grip with no specialized tools. Other features of the Triton Mount System include interchangeable sling-mount locations for left- and right-handed shooters, an additional spacer for when sling mount is not in use, and an angled self-aligning dovetail locking system for easy, secure installation.
Other features of the Saiga Talon Tactical Stock include a removable and adjustable, 3/8-inch cheekrest, 3M industrial-grade self-adhesive soft touch cheekrest pad, and DuPont Extreme Temperature Glass Reinforced Polymer Stock. Also, no modifications of the trigger assembly are required for installation of ATI's Saiga Talon Tactical packages.