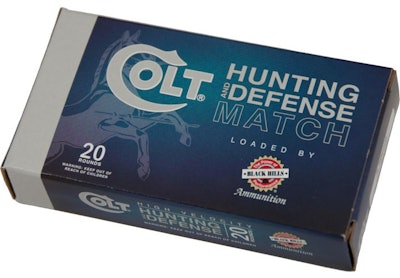 Black Hills Ammunition is introducing a line of Colt-branded ammunition that is specifically tuned for Colt tactical and competition rifles, Colt Manufacturing has announced.
The line of ammo has been ballistically tested in Colt rifles with a requirement of consistent five-shot MOA groups (five-shot groups of 5 inches or less) at 500 yards. This "triple nickel" enables improved performance for experienced shooters with no need for load development or experimentation.
The initial offerings from Colt and Black Hills include 55-grain and 77-grain match-grade bullets from Sierra Bullet. The rounds are designed for rifles chambered in 5.56x45mm NATO. The Colt-Black Hills ammo will be available through Midway USA.