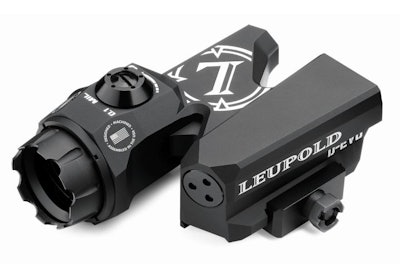 Leupold & Stevens, Inc., has completely rewritten the book on add-on magnifiers with the introduction of the Dual Enhanced View Optic (D-EVO).
Designed to be used with the Leupold Carbine Optic (LCO) or other red dot, holographic, or reflex sights, the D-EVO delivers 6X magnification without the need for the operator to move his or her head or change cheekwelds. The operator simply looks down a few inches for a clear, 6X sight picture featuring one of Leupold's most versatile reticles. Nothing needs to move but the operator's eyes.
"D-EVO was developed with input from some of the tactical industry's top instructors and combat veterans," said Tim Lesser, director of product development for Leupold & Stevens, Inc. "The shortcomings of other dual optics systems, like flip-up magnifiers, led us to believe there was a better solution for our warfighters. D-EVO is that solution."
The z-shaped D-EVO features a 6x20mm optics package, and is designed to "look around" the CQB sight. The eyepiece is situated just a few inches below the red dot window. With Leupold's CMR-W reticle, the D-EVO adds mid-range accuracy and wind holds well beyond those of the red dot alone.
At just 4.6" long, the D-EVO takes up just 3.2" of rail space, allowing for additional accessories. Its light 13.8 ounces won't weigh down a rifle. D-EVO is made to be rugged and reliable; it can be used on its own as a primary optic. At only 2" tall, it's a low-profile option for any rifle.
Even with a package this compact, the D-EVO allows 50 MOA of adjustment for both elevation and windage, with 0.1 mil adjustment dials, compatible with the majority of reticles in use by military shooters and spotters.
Designed, manufactured, and assembled in Beaverton, Ore., D-EVO is built with Leupold's legendary ruggedness and durability according to the company. Completely shock and fog proof, D-EVO is waterproof to 66 feet below the surface. D-EVO is covered by the Leupold Gold Ring Full Lifetime Guarantee.
Founded in Oregon more than a century ago, Leupold & Stevens, Inc. is a fifth generation, family owned company that designs, machines, and assembles its riflescopes, mounting systems, and tactical/Gold Ring spotting scopes in the USA. The product lines include rifle, handgun and spotting scopes; binoculars; rangefinders; mounting systems; and optical tools and accessories.