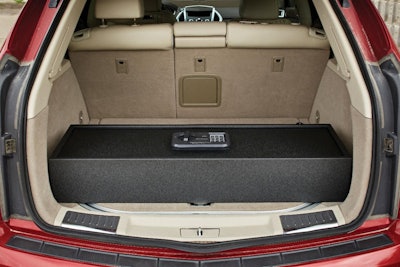 SnapSafe is offering the Trunk Safe II an innovative storage solution for a variety of tools, weapons, equipment, and other items law enforcement needs in the field.
The Trunk Safe II is designed for theft protection in any car trunk, RV, or home. It boasts a heavy-duty 13-gauge steel exterior, reinforced by a rugged six-gauge door equipped with eight interior locking lugs. This construction provides strength and resilience, creating a fortified barrier against unauthorized access and potential theft. Equipped with a pry-resistant door, the Trunk Safe II can deter attempts at forced entry.
Despite its rugged design, the TrunkSafe II is engineered with internal hinges and premium gas shocks. This lets users access stored items with smooth precision as the door glides open with ease.
The advanced digital lock of the safe provides convenience and peace of mind. Users can program a 3- to 8-digit access code to personalize a secure combination. In case of a power failure, a barrel key backup can be used.
For enhanced security, the safe includes a 3-foot cable. This allows the user to anchor it to a stationary object, deterring theft of the safe itself. Additionally, four pre-drilled holes on the bottom panel offer the option of a permanent installation, providing stability and additional security in a fixed location.
Inside, the TrunkSafe II has a padded floor mat that adds an extra layer of protection for any stored items, safeguarding against potential scratches or damage.
Trunk Safe II Features:
• Large capacity for tools, firearms, equipment, documents, and more.
• Theft protection for any SUV, car trunk, RV, or home.
• Heavy-duty 13-gauge steel exterior with rugged 6-gauge steel door featuring eight interior locking lugs.
• Internal hinges and premium gas shocks provide smooth operation.
• Digital lock with key backup can be programmed with a 3- to 8-digit access code.