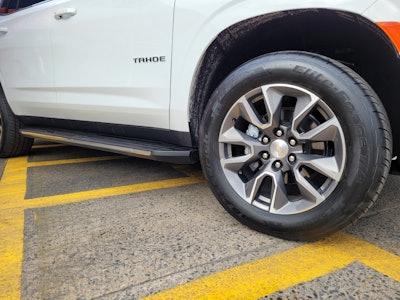 BFGoodrich Tires has introduced the Elite-Force T/A, a purpose-built, all-season pursuit tire for law enforcement operations.
"The BFGoodrich Elite-Force T/A tire responds to emergencies in any condition, from driving downpours to grinding gravel roads," said Kim Kegler, BFGoodrich Tires brand director. "We developed a BFGoodrich tire that can answer any and every call in the most severe conditions."
The company says Elite-Force is engineered to last longer on the job:
Longer lasting wear life: Elite-Force delivers long-lasting wear life based on commissioned third-party testing. Elite-Force is designed to be 35% stronger with a redesigned tread pattern for increased durability to last longer on the job.
Excellent wet performance: Elite-Force is one of the best wet-braking pursuit tires among leading competitors. The tire stops up to 21 feet shorter than a leading competitor tire.
Dedicated pursuit tire with a large portfolio of sizes that covers police fleets.
BFGoodrich Tires says it incorporated law enforcement feedback in its design for the Elite-Force.
"Wet-traction handling is the most important to me, especially in high-speed situations," said Major Jason Ramey of the Edgefield County (SC) Sheriff's Office.
The tire is available with a badge-inspired design on the sidewall or a traditional, undercover sidewall.