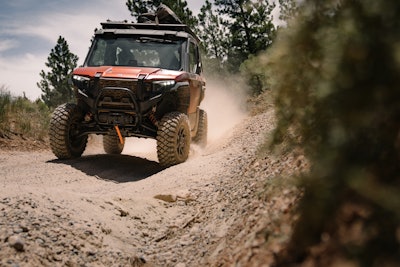 Polaris Off Road, a leader in off-road vehicle innovation have announced a first-of-its-kind side-by-side platform – the all-new Polaris Xpedition. The 2024 Polaris Xpedition XP and ADV create an entirely new category of side-by-sides, combining the all-terrain capabilities of traditional side-by-sides with comfort and cargo capabilities typically associated with overlanding at the highest level, the company says.
Polaris' Government and Defense team is accepting orders of the Polaris Xpedition now for local, state and federal customers.
The new Polaris Xpedition is appropriate for city, state and federal personnel as they patrol and protect conservation and public lands. With a host of standard features and optional configurations to accommodate the greatest range of outdoor jobs, the Polaris Xpedition is the most adaptable, comfortable and capable off-road machine on the market.
Polaris' 2024 Xpedition features integrated fold-flat rear seats, a pass-through cab and easy roof rack solutions to accommodate virtually any loadout. Delivering all-day comfort, the Polaris Xpedition is the first-ever sport side-by-side to offer a fully enclosed cab with full roof coverage, windows and optional heating and air conditioning providing riders protection from the elements. The Polaris Xpedition ADV model features a fully covered pass-through rear cargo box providing 36 inches and 63 inches on the 2-seat and 5-seat models, respectively, of flat storage length. The Polaris Xpedition XP features a dumping cargo box that measures 30 inches long to provide ample space for your spare tire and additional gear or accessories. Both models feature a segment-leading 48 inches width box with 16-inch high side walls so riders can carry equipment with ease.
The 2024 Polaris Xpedition features a flat roof that enables over 100 all-new accessories including, Rhino-Rack roof rack and accessories such as the Polaris Maxtrax traction boards and more. Additionally, flat floors and a large rear storage box allow for ample space to carry gear and keep it protected from the elements. Whether hauling people or supplies, the five-seat configuration offers modular rear seats, providing even more storage space. In addition, a 2,000-pound towing capacity allows riders to hitch and pull additional gear. Plus, the all-new Lock & Ride Max cargo system adds an unmatched level of adaptability, with accessories that allow for virtually limitless configurations for wildland navigation and maintenance, preservation efforts and search and rescue applications.
Curated specifically for the Polaris Xpedition are five rider-inspired accessory collections, built for a variety of activities including Overland, Kayak, Trail, Hunt and Utility.
The Polaris Xpedition is equipped with plush and sophisticated Fox Podium QS3 shocks with position sensitive spiral technology keeping the ride smooth and enjoyable all day, even against rough terrain. An optional enclosed Pro Shield Cab System offers the most integrated, tight seal year-round to provide a superior experience every day, in every season. Additionally, the NorthStar trim features an exclusive HVAC system with adjustable control modes, allowing riders to set and direct the airflow to ensure the cab stays comfortable in hot or cold conditions. The NorthStar temperature-controlled vehicle is the industry's only sport side-by-side to offer HVAC standard. Coupled with power windows and a tip-out front windshield, riders can work within the comfort and protection of the cab.
Focusing on rider comfort, the Polaris Xpedition cab features a tilt and telescoping steering wheel, 6 inches of seat adjustability and front bucket seats for a tailored fit. To keep rider's gear protected, the vehicle also has available locking doors, center console and a rear cargo box. Exploring the unknown confidently has never been easier with Polaris' industry-leading 7-inch touchscreen display powered by Ride Command, giving riders access to the most sophisticated GPS and trail network available, and helping government officials and search and rescue personnel navigate unchartered areas. The Group Ride feature allows riders to communicate, navigate and stay connected as a group while out on the trail.
For those working further into the backcountry, the 2024 Polaris Xpedition touts the industry's largest fuel capacity of any factory side-by-side on the market with more than 200 miles range of range. The 114-horspower, ProStar 1000 Gen 2 engine provides quick responsiveness and acceleration, while the on-demand all-wheel drive, Pro Armor 30-inch Crawler XP tires and a segment-leading 14 inches of ground clearance make easy work of the even the most technical terrain. High-mounted air intakes, sealed electrical components and extreme approach and departure angles allow riders to tackle trail conditions with confidence, knowing the electrical system will stay dry and the engine, clutches and belt will still receive air flow for peak performance.
Built with a purposeful design, the Polaris Xpedition comes with a Polaris HD 4,500-pound winch to help navigate the unknown and makes it easier than ever to add a Glacier Pro HD plow system. Plus, the Polaris Pulse electrical system allows you to easily install electrical accessories such as light bars, a heater kit and more so you can go the distance year-round, day or night.
The 2024 Polaris Xpedition XP and ADV are both available in two and five-seat configurations in three trims: Premium, Ultimate and NorthStar. The Ultimate and NorthStar trims are available for purchase now and will ship in Summer of 2023, while the Premium trim will be made available in 2024.
2024 Polaris Xpedition XP Premium
2024 Polaris Xpedition ADV Premium
The Premium trim will be made available in 2024.
The Polaris Xpedition Premium features a 4.3-inch JBL Color Display and Trail Pro 2000 Audio, 660 W stator charging system, Fox Shocks, Pro Armor 30-inch Crawler XP tires with 15-inch wheels, standard bumper, winch and roof. The ADV 5-seat model includes covered cargo area with flat fold and 60/40 split flip-up rear seats, while the XP 5-seat model includes a dumping cargo box and 60/40 split flip-up rear seats.
2024 Polaris Xpedition XP Ultimate
2024 Polaris Xpedition ADV Ultimate
In addition to the premium offering, the Polaris Xpedition Ultimate also includes Polaris' industry-leading seven-inch touchscreen display powered by Ride Command, 900W stator charging system, JBL Trail Pro 4100 surround sound audio system with 400W amp and 10-inch subwoofer, front and rear cameras, tilt and telescopic steering, plus padded console and auto stop winch.
2024 Polaris Xpedition XP NorthStar
2024 Polaris Xpedition ADV NorthStar
Rounding out the lineup is the top-tier Polaris Xpedition NorthStar. Including everything from the Ultimate trim, the NorthStar trim features a fully enclosed cab with HVAC temperature and zone controls, lockable full doors with power windows and a tip-out front glass windshield. The NorthStar trim also comes standard with Ride Command+, allowing for vehicle health monitoring and more.
To learn more, go to https://military.polaris.com/en-us/brands/polaris-xpedition/.