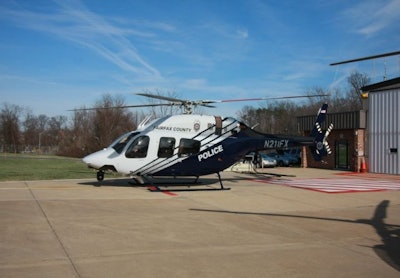 Bell Helicopter has delivered the first of two Bell 429 helicopters to the Fairfax County (Va.) Police Department.
This is the first of two Bell 429s being delivered to Fairfax County. Their second Bell 429 is expected to deliver in the second quarter of 2012.
This multi-role Bell 429 is capable of completing missions for airborne law enforcement, helicopter emergency medical services and search and rescue. This configuration was completed at Paradigm Aerospace Corporation, a Bell Helicopter Customer Service Facility in Mount Pleasant, Penn.
"The Bell 429 has exactly what we were looking for when we searched the market for a true multi-mission helicopter. Its spacious cabin allowed us to be creative in our design," said Paul Schaaf, chief pilot for the Fairfax County PD.
"We are very pleased with our new Bell 429 and know it will serve us well in the coming years," Schaaf said in a statement.
"The Bell 429 was designed for this type of multi-role capability," said Larry Roberts, senior vice president for Bell's commercial business. "Our customers like the speed, power and the advanced flight deck technology found in the Bell 429. Along with the largest cabin in its class, it offers a smooth, comfortable ride."
The Bell 429 is the world's newest and most advanced light twin-engine helicopter. It has conducted extensive flight demonstrations in every continent, except Antarctica, and has been certified in more than 40 countries.