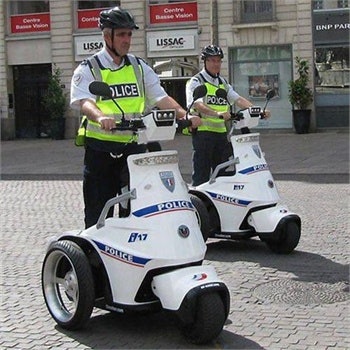 The T3 Series Electric Stand-up Vehicles (ESV) were involved in a nationwide campaign to reduce crime in trials with various French National Police departments and municipalities, according to T3 Motion.
The trials were carried out for the French government to evaluate the effectiveness of the T3 ESVs in their anti-crime campaign, assessing them for community policing initiatives within the cities and sea fronts. During the initial trial period in two cities, the French government reported a drop in crime by 12.7% and 8%.
The Chief of Police from the Western Region National Police told the Ouest-France newspaper that police "are very pleased with these vehicles, which adapt well in urban areas and facilitate communication with citizens."
Similar results were found in Paris, Marseille and Perpignan. The French government has extended the trial length by two months.
T3 ESVs were also used during Nantes' campaign to increase the number of law enforcement patrols from 96 in June to 179 (an 86% increase) in July and 201 (an 109% increase) in August, Ouest-France reported. The T3 ESVs were reported to have had an impact on the observed reduction in crime. In Nantes, T3 ESVs were deployed for security initiatives in the city center to prevent shoplifting, noise complaints and drug possession, resulting in 23 arrests for drug possession in the summer season alone.
The T3 Series ESV is currently deployed in over 30 countries worldwide, spanning all six major continents. Countries that deploy T3 ESVs include Mexico, Kuwait, Israel, South Korea, South Africa, Chile and Turkey.