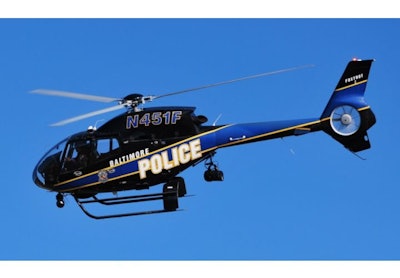 The Baltimore Police Department has ordered four American Eurocopter EC120 aircraft to update its fleet of four aircraft, the company announced.
The new helicopters will be part of a fleet renewal program and will begin arriving in summer 2012.
"The reasons we chose the EC120 to upgrade our fleet are the same reasons we chose the EC120s in the first place," said Lt. Don Bauer, the department's aviation commander, in a release. "It is always reliable. It's fuel efficient and quiet. Out of all the aircraft we evaluated, nothing beats the EC120 for our department and our missions."
The Baltimore PD, utilizes its EC120 craft for airborne law enforcement missions that include patrol and support as well as homeland security missions. Its current fleet were purchased in 2000. In July 2010, the department had the first EC120 in the world to reach 10,000 flight hours. The Baltimore PD fleet now has more than 35,000 flight hours.
"The Baltimore Police Department's commitment to the EC120 showcases the appeal of the platform in the airborne law enforcement community," said Treg Manning, American Eurocopter's vice president of sales, in a release. "The department's current fleet of 120s have provided crucial support for its airborne law enforcement missions and have shown the durability of this airframe."
In addition to the aircraft's performance and reliability, Bauer said the service and support provided by American Eurocopter was another selling point. "We have almost a 12-year relationship with American Eurocopter. Their commitment to supporting our aircraft and our department has helped us keep our aircraft in the air and performing our missions. It made our decision even easier."
The new EC120s will be built and equipped at American Eurocopter's Grand Prairie, Texas, facility and will include advanced avionics and mission equipment, including a thermal imager, searchlight, moving map, and video downlink systems. Baltimore PD's EC120s will have customized front and rear seat consoles for Tactical Flight Officers (TFOs).
The EC120 delivers maneuverability, a wide unobstructed cabin, excellent visibility, and a new generation Fenestron tail rotor. The aircraft is powered by a fuel-efficient Turbomeca ARRIUS 2F engine and equipped with advanced technologies such as the cockpit's Vehicle and Engine Multifunction Display (VEMD) to decrease pilot workload.