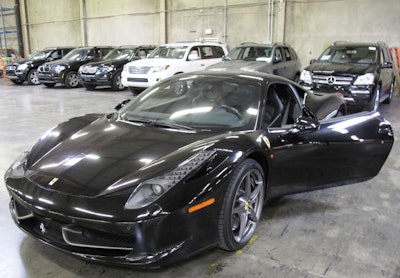 Federal customs agents uncovered 20 high-end stolen vehicles bound for Asia inside shipping containers that had been listed on the shipping manifest as "used fitness equipment."
U.S. Customs and Border Protection (CBP) officers discovered the mostly leased vehicles, after a Southern California car rental company became suspicious when a GPS device in a 2010 Ferrari showed the vehicle at the Los Angeles/Long Beach Seaport.
The CBP's Outbound Enforcement Team recovered the stolen vehicles that were bound for Hong Kong and Vietnam. The vehicles, which had a combined value of $1.5 million, included a 2010 Ferrari 458 Italia and other luxury brands such as BMW, Lexus, Infiniti, and Audi. The Ferrari is valued at $280,000.
Smugglers used false identities to acquire the vehicles, defrauding several local dealerships, financing companies, and vehicle insurers, Jamie Ruiz, CBP spokesman, told POLICE Magazine.
"This is an extremely important discovery and it once again demonstrates the alertness and attention to duty CBP officers practice every day," said Todd C. Owen, the CBP's director of field operations in Los Angeles, "In addition to protecting the homeland from terrorists and their weapons, CBP officers are also charged with ensuring that our citizens do not lose their property to international thieves."
The California Highway Patrol has taken over the investigation, and so far no arrests have been made.
So far in fiscal year 2011, CBP agents at the Los Angeles/Long Beach Seaport have seized 61 vehicles and 49 engines heading overseas. Of that total, 24 were stolen, 73 were undeclared, seven were undervalued and six had fraudulent documents.