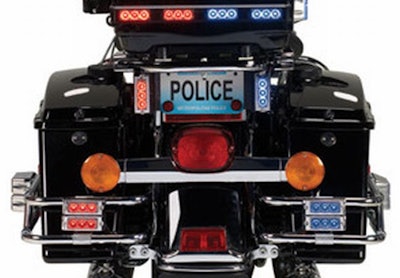 OfficerStore.com has expanded their Code 3 choices with the addition of 13 new products. Included are 4 series of Interior lighting solutions, five series of exterior lighting solutions and two siren systems. The lighting units incorporate highly advanced LEDs, dozens of selectable flash patterns and multiple mounting options. The sirens are part of the Code 3 sound-based systems designed for law enforcement use as well as other emergency vehicles.
Siren Systems
The RLS Remote Lighted Siren along with the H2 Covert Remote Siren System feature instant on and horn ring transfer as well as a noise cancelling microphone and siren park kill. The RLS packs all the best Code 3 siren features into a small and efficient control head with six siren tones. The H2 Covert Remote Siren System features an easy to operate hand-held controller and eight siren tones. The remote hand-held controller allows the amplifier to be installed out of the way, leaving room for more vital equipment.
Intrepid and Essex Series Interior Lights
The extraordinary visibility and performance of both TriCore light heads and Torus LED technology create signals that can be seen at far greater distances than any other current lighting technology. New flared visor allows a much greater off-angle light signal, particularly useful when approaching intersections. Both series also offer multiple mounting options including rear deck bracket or windshield visor/suction cup. New locking swivel feature allows universal mounting to fit to the curve of any windshield. Both series come with a 5-year Warranty on the LEDs.
Intrepid Series:
Red, Blue, Amber, or White LED light heads Available
Split Color Combinations: Blue/Red, White/Red, and Blue/White
40 User Selectable Flash Patterns
Essex Series:
2 Sizes Available: Single and Dual Head
Split Colors: Red/Blue, Blue/White*, and Red/White. (* Call for Availability)
27 User Selectable Flash Patterns for Single Head, 53 for Dual
Additional lighting offerings include the PAR36 Fog Light with improved LEDs. This unit easily installs into existing fog light positions in the front of Dodge Chargers and Chevy Tahoes. These units draw less than 0.9 Amp and come with a 5-Year Warranty. These are an ideal way to add visibility and yet retain the look of your vehicle.
The XT302 and XT304 make up part of the most extensive lighting system for motorcycles that Code 3 has ever offered. The XT302 Dual Head units and the XT304 Quad Head units are ideal for radio box installation on the rear or sides. Additionally the can be flush mounted on side guards. The T-Rex Series lights are compact, wide angle lights with 27 user selectable flash patterns and synchronous capability.
The latest in the XT3 line provide bright directional optic LEDs designed for auxiliary or secondary warning lights. They have 32 selectable patterns; operate with existing standard toggle switches or with switch panel (Included) and a 5-Year Warranty on the LEDs.
The 8 Head NarrowStik Warning Light provides high performance in compact sizes. Come with clear lens and Blue/Blue, Red/Blue, or Red/Red LED's. The unit has a shock and water resistant potted circuit board. It is 28.6" in length, comes with 90 degree mounting and a black bezel standard.
The 8 Head NarrowStik Warning Light in Amber is an ideal traffic directing signal with 32 selectable patterns. It is 12/24 Volt compatible and features clear lens with bright directional optic LED's. Shock resistant and weather protected for exterior and interior use and available in either 28.6" or 47" lengths.
The Code 3 line of lighting and sound-based warning devices and accessories includes lightbars, LED, strobe and halogen beacons, interior package lighting, including the XT4 Series of Exterior lights in Single 4-LED split lighthead and the Dual 4-LED split lightheads. Log onto OfficerStore.com today and learn about more Code 3 options available to you.