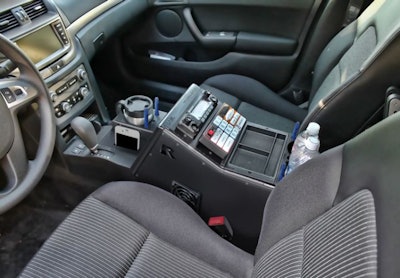 RAM Mounts' Tough-Box console for the Chevrolet Caprice PPV will be available March 13, according to the company.
The console, which fits the 2011 and 2012 model years, uses molded composite and stamped steel that are melded to improve ergonomics, performance, and safety.
Molded face plates incorporate tongue-and-groove details to prevent contamination of electronics from dust and dirt falling through the cracks. This also integrates the combined face plates together as a unit to provide more strength and prevent lost cards, licenses and paperwork.
The console's modular and adaptable design allows for customizable configurations. Several knockout panels on each side accommodate 12-volt connectors or cigarette adaptors. A microphone hole and slot pattern is available on the passenger and driver side of the console.
Molded and stamped mounting holes allow for extreme ease of assembly and installation. This RAM console allows for installation of a full-size radio such as the Motorola Astro XTL 2500.
The new RAM Twist-Lock feature allows for quick access to radios or switches. An integrated cooling fan keeps electronics from overheating.