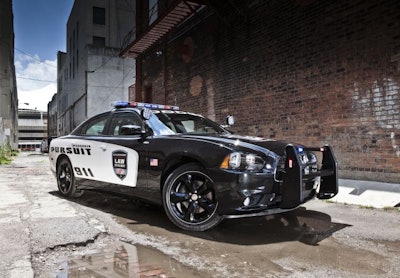 Chrysler will voluntarily recall at least 9,688 2011-2012 model-year Dodge Charger Pursuit patrol cars due to electrical issues, the automaker announced.
Law enforcement agencies can return affected vehicles dealers to change and relocate the fuse for anti-lock braking (ABS) and electronic stability control (ESC). The dealer will also replace the headlamp jumper harness.
The automaker said it built some police vehicles with front headlamps that could experience a loss of low beam operation, due to an overheated bulb harness connector, or a loss of ABS/ESC as a result of an overheated Power Distribution Module.
"The conditions tend to occur when police vehicles are exposed to severe police duty vehicle cycles for an extended period of time including, long durations of high speed, evasive driving when used as training vehicles for police forces and extended idling," said David Dillon, head of product investigation and campaigns. "We will continue to monitor the retail fleet for any occurrence of this condition beyond police vehicles."
The issue was first identified in August by personnel with Chrysler's Quality Engineering Center who identified two returned headlamps with melted low beam connectors. On Dec. 8, the Michigan State Police reported a training vehicle with a repeatable loss of ABS/ESC system power.
Chrysler said the recall affects Dodge Charger models produced between July 5, 2010, and Dec. 20, 2011. The automaker added that it is not aware of any accidents or injuries related to this vehicle condition.