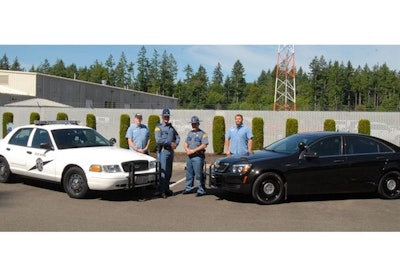 The Washington State Patrol has begun the process of replacing 650 Ford Crown Victoria Police Interceptors with the Chevrolet Caprice PPV.
The agency has just begun the process and currently has five Caprice PPV sedans in the fleet, said Daniel Coon, the patrol's public information officer. The goal is to replace the 650 Crown Vics out of a fleet of 1,600 vehicles over a five-year period. He added that the agency chose the V-8, 6.0-liter powertrain option for the new Caprice PPVs.
The state patrol used Ford Crown Vic patrol cars for 25 years, according to Coon. To mark the "end of an era" for the Crown Vic, the agency held a small ceremony to mark the last Crown Vic being used by the agency rolling out of the fleet section at the end of June. Trooper Paul Wanzenried, District 4, Spokane, Wash., received the vehicle. Trooper Jason Cuthbert, District 5, Kelso, Wash., received one of the new Chevrolet Caprice patrol cars.
For the incoming Caprice PPVs, the state patrol's fleet section will upfit new vehicles as officers turn in the older vehicles, generally between 130,000 and 150,000 miles.
The fleet section is still getting used to the upfit process for the Caprice PPV, according to Coon, but rapidly adapting. He explained that the fleet section has implemented a "Lean" methodology for its upfitting process, which has improved the rate at which the organization can upfit vehicles. Beyond fleet, Coon told Government Fleet that officers like the vehicles.
"They're very happy," he said. "Some of the older officers grew up with the Crown Vics, but once they've tried the Caprice PPV, they are very impressed with its handling, power, and braking."
The new Caprice PPV patrol vehicles will have the same color scheme and emblems as the Crown Vics.
By Greg Basich