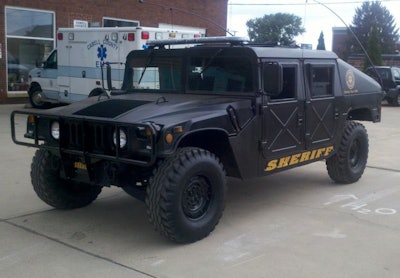 The Defense Department has halted the flow of military surplus equipment to law enforcement agencies, and demanded an accounting of equipment already distributed through its 1033 program, reports the Associated Press.
The department's Defense Logistics Agency (DLA) ordered state-appointed coordinators in 49 states to certify the whereabouts of that equipment that has already been distributed through the long-running arrangement overseen by the agency's Law Enforcement Support Office (LESO), according to the report.
The program provides police departments and other law enforcement agencies with military equipment ranging from guns and helicopters to computers and air conditioners and even toilet paper. The equipment is cheap or free for law enforcement agencies to acquire, but much of it comes with strict rules that prohibit it from being sold and dictate how it must be tracked.
The National Defense Authorization Act of 1998 included Section 1033, authorizing the secretary of defense to transfer excess property from the Department of Defense to law enforcement agencies. This resulted in the creation of the DLA, which handles the transfer, or disposition, of the property via LESO. The program was initially set up to aid counter-drug investigations.
Related:
Military Surplus Vehicles Aid the Fight
Military Surplus Vehicles for LE (photos)