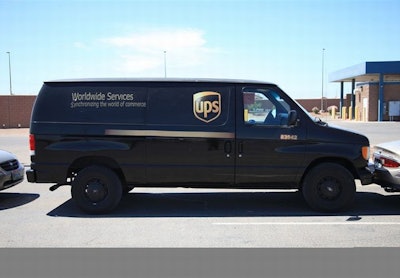 Border Patrol agents arrested a 21-year old man who was attempting to smuggle illegal aliens into the U.S. using a vehicle that resembled a UPS van on May 18 in El Centro, Calif.
The vehicle was not a typical UPS parcel truck, but to the casual observer, it looked as if it could have been a vehicle used by UPS. Border Patrol agents stopped the vehicle and discovered the 13 passengers hiding in the back of the vehicle and determined that they were Mexican nationals.
Automotive Fleet spoke with Susan Rosenberg, manager, public relations, at UPS about the measures the company has in place to prevent the use of either company vehicles or company logos and livery for either illegal activity or other activities not approved by UPS.
"Number one, it goes without saying that UPS does not transport people," Susan Rosenberg, UPS' manager of public relations told Automotive Fleet. "We have a very prescriptive asset disposal program for our vehicles. We get 20 to 25 years of useful life out of our vehicles, and we are very careful that all of our livery is removed, and they are destroyed when we retire them from service. There is not an aftermarket for our fleet."
Rosenberg said UPS has numerous systems and policies in place to prevent company vehicles from being used in ways the company doesn't intend. Most importantly, in the case of transborder operations, she said UPS has strong relationships with U.S. Customs and Border Protection and Border Patrol.
"Our transborder volume has grown, and we want to expedite clearance for the vehicles. The key is the advanced information we exchange to quickly provide the detail and access that U.S. Customs officials need," Rosenberg said. "They know what the manifests are and have all the declarations for our vehicles."
UPS uses telematics so the company knows where its vehicles are at all times. Each UPS vehicle is equipped with telematics technology that has GPS capability and diagnostics to enhance routing, equipment maintenance, safety training, and information shared with our drivers.
UPS's Rosenberg said this was an isolated incident at the border and that the company hasn't seen "cloned" vehicles such as this before.
By Greg Basich and Chris Wolski