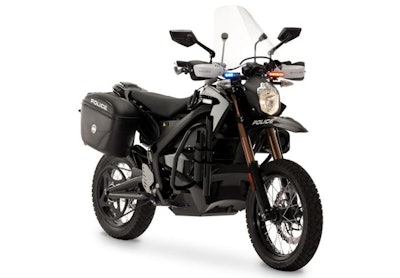 Zero Motorcycles has released the 2012 model of its electric DS Police Motorcycle, which is now in its third generation.
The latest model incorporates feedback gathered over the past two years from police, security, and military agencies, according to the company.
Zero has provided cycles for field testing to the Santa Cruz Police Department, Scotts Valley Police Department, Sebastopol Police Department, and the London Metropolitan Police.
The Zero DS is available with either a 6 kWh or 9 kWh battery. The motorcycle's range, as measured by the EPA UDDS, is rated at 70 or 112 miles on a single charge respectively. The cycle can reach a top speed of 80 mph. The cycle offers instant torque, no shifting, no noise, no exhaust, minimal heat production and a low weight, according to the company.
The Zero DS uses regenerative braking to partially recoup energy during deceleration. It's powered by an air-cooled brushless motor and belt-driven system.
Zero Motorcycles' Z-Force power pack uses a battery cell chemistry and configuration that's rated to complete 3,000 charge cycles before hitting 80% capacity.