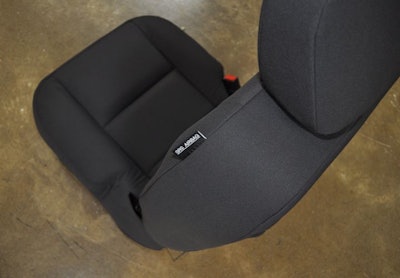 Cynergy Products has introduced the Officers Patrol Seat to replace the OEM driver's seat foam and cover for Ford Crown Victoria Police Interceptor models from 2004 to 2011, according to the company.
The seat is designed for the heavy-duty use a patrol vehicle endures, by providing foam that's 30% higher density to give the officer more support, decrease back problems, and fight fatigue from long shifts in the patrol vehicle.
"We changed the foam mold to better meet the demands of the officer by lowering the side bolsters, making it easier to get out of the vehicle in a hurry," said Keith D. Engblom, Cynergy's sales manager. "We changed the back of the seat to make room for the duty belt and to reduce gun deflection and ride-up."
Cynergy's seat cover uses ½-inch fire retardant laminate foam, providing an extra ¼ inch compared to the factory seat. The cover offers higher-thread-count material for improved durability, according to the company. The fabric is stain resistant with increased breathability.
The Officers Patrol Seat arrives with the foam and fabric already attached. The installation takes 1-2 hours depending on experience. The kit is now available for the 2004-2011 Ford CVPI. Seat kits are now in development for the Chevrolet Tahoe, Dodge Charger, and Ford Raptor truck.
The kit retails for $499.