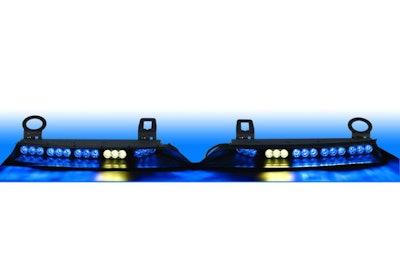 Code 3 Inc. has introduced an updated SuperVisor U (for "universal") front windshield interior light.
The SuperVisor U is designed to fit the windshield curves and angles of most vehicles and keep flashback light from distracting the driver. The adjustable side-shield light blocking plates have been designed specifically to block out flashback light from the sides.
Bracketing and rubber gaskets allow this two-part (one on driver's side and one on passenger's side) interior light to be mounted to almost any vehicle. The SuperVisor U comes with four outer mounting brackets, an inner mounting bracket set, and a set of four slotted mounting brackets along with threaded fasteners, and two types of bracket washers to fill gaps when necessary.
The SuperVisor U includes Torus LED technology with independent flashing lightheads that quickly go from stealth to a wealth of light. IT can be ordered with takedown lights.