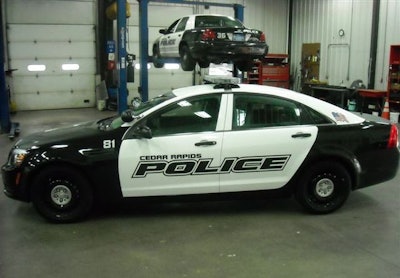 The Cedar Rapids (Iowa) Police Department has received its first batch of seven new Chevrolet Caprice PPV patrol cars. The city plans to have a total of 72 patrol units but its Fleet Services Manager, Dennis R. Hogan, told POLICE Magazine that this plan could change when the city hires a new police chief in late September. The vehicles that arrived are model-year 2011 Caprice PPV sedans.
To choose the vehicle, Hogan explained that the city involved a number of departments.
"The city used a cross functional team representing fleet services, police command staff, and front-line officers to research and review each police vehicle being offered by the manufacturers," he said. "Once all of the data was reviewed the team made the decision that the Chevrolet Caprice was best suited to our process and needs."
Hogan said the biggest change in switching from the Ford Crown Victoria Police Interceptors to the Chevrolet Caprice has been the upfitting process.
"The upfitting has been the biggest challenge based on the availability of up-fit components and the correct location based on the reduced space in the cockpit of the Caprice," he said. "The upfit process required numerous meetings, site visits with our upfitter, and adjustments to what equipment went where in the vehicle. We now have a successful design that meets the needs of our officers and the Fleet Services organization so when the next batch of Caprices arrives later this year we will be on the same course we had when up-fitting our Crown Victoria package."
Hogan said with all of that said and done, the city has now finalized its up-fit layout and design, and has placed three of the new Caprice units in service. Hogan said the plan is to have the remainder ready to go within the next few weeks.
By Greg Basich