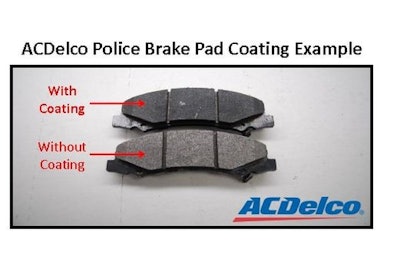 ACDelco has introduced a surface coating to its brake pads that helps reduce the break-in period and improves pre-burnish brake effectiveness, according to the company.
The coating is designed for the police duty cycle, including high-speed driving. The new coated pads provide coverage for Chevrolet Caprice, Impala and Tahoe; Ford Crown Victoria and Interceptor; and Dodge Charger police vehicles.
When replacing brake pads, a break-in or "burnishing" procedure is recommended to properly condition both the brake pads and brake rotors for optimum performance and brake life. The ACDelco coating is applied to the friction surface during manufacturing to ensure uniform coverage and applied density.
The coating may temporarily release visible airborne gasses as it transfers material onto the brake rotor during the burnish procedure, according to the company.