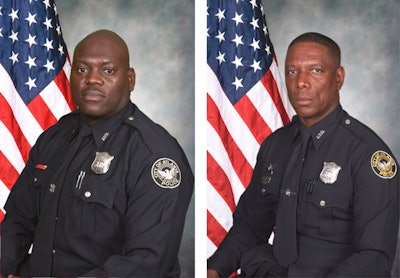 Two Atlanta Police officers were killed Saturday night when their low-flying helicopter struck a power line and crashed while they searched for a missing boy.
Officer Richard Halford, 48, and Officer Shawn Smiley, 40, were killed in the 10:30 p.m. crash. Halford, an experienced pilot, and tactical flight officer Smiley searched for the 9-year-old in northwest Atlanta.
Patrol officers responded to the missing-child report shortly after 9 p.m. Saturday. The Air Unit officers responded to assist with the search with a Hughes OH-6A Vietnam-era helicopter.
The single-engine helicopter hit the top of a power line pole and its support cables before falling to the ground, federal government investigators told the Atlanta Journal-Constitution. The crash occurred at Hamilton E. Holmes, near Martin Luther King Jr. Drive.
Law enforcement helicopters usually don't fly low enough to strike residential power wires, the president of the Airborne Law Enforcement Association told POLICE Magazine.
"There are optimal altitudes that you can get on the search that also give you optimal safety," said Kurt Frisz, ALEA president and an airborne officer with the St. Lous Metropolitan Police Department. "We do train and advocate higher altitudes when conducting search missions."
The accident is under investigation by the National Transportation Safety Board and the FAA. The officers were operating a helicopter that's the military version of the MD 500. The copters are popular among agencies for search missions because of their maneuverability, Frisz said.
"They paid the ultimate sacrifice," Frisz said. "Two guys went to work that day, and they lost their lives serving their community, and that's tragic."
Officer Halford, a 26-year veteran, leaves behind a former wife and 21-year-old daughter. Officer Smiley, a two-year veteran, leaves behind a wife and three children.
"Losing an officer is the most difficult thing a police chief can face," said Chief George Turner in a statement. "Losing two is an unthinkable tragedy. Our hearts go out to the families of these officers and our thoughts and prayers are with them. This is a difficult day for the APD family and it is a reminder of their bravery and the sacrifices made by our officers every day."
By Paul Clinton