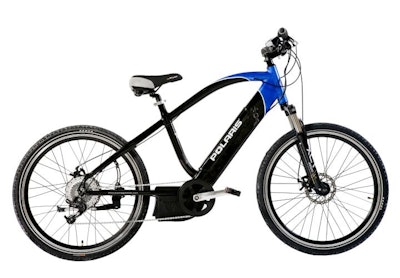 A Utah marketing company is making available a new line of Polaris eBikes for police, fire, and public safety departments.
Market Builders, Inc. of Salt Lake City will offer the eBikes—eight-speed bicycles with an electric motor and powered by a rechargeable lithium ion battery. The Polaris eBikes can travel up to 30 miles on a single charge at a speed of up to 20 mph.
Most competitive eBikes are either throttle controlled or pedal assisted – not both. The Polaris eBikes features Biosync pedal assistance technology and Power On-Demand throttle control, which operates like a throttle in order to ride without pedaling.
The Polaris eBike also arrives with a 6061 aluminum frame, 26-inch Kenda wheels, Suntour XCT front suspension, Tektro brakes, SRAM eight-speed gear, and in-frame battery design.
A range of accessories can also be purchased, including mountable carry bags for equipment, flashing lights, and more. A Polaris eBike retails for $2,195.