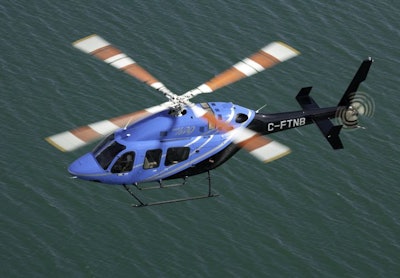 The Delaware State Police have ordered a pair of Bell 429 helicopters to serve airborne law enforcement operations as well as emergency medical services.
The light twin-engine helicopters will be delivered in early 2014, according to Bell Helicopter.
"For the mission and operations for the Delaware State Police, we evaluated all helicopter options in the light-twin category, as well as multiple medium-twin options," said Colonel Nathaniel McQueen, Jr., state police superintendent. "After careful consideration, the selection team chose the Bell 429 as the best combination of speed, power, performance and working volume to meet our mission needs."
The two aircraft will join the Delaware State Police Aviation Unit, which consists of 25 pilots and medics providing 24-hour coverage from locations in Georgetown and Middletown. Each year, the unit averages 2,000 missions, transports approximately 300 trauma patients and flies nearly 1,500 hours. The Aviation Unit now operates four helicopters—three Bell 407s, a Bell 412, and a fixed-wing Cessna 182.
The Delaware State Police Aviation Unit's mission is to provide rapid transport of critically ill or injured patients to medical facilities and to support law enforcement ground personnel in the apprehension of criminal suspects. The unit conducts a variety of other missions, including, airborne security for visiting dignitaries, homeland security operations, photographic missions, narcotics interdiction, pursuit support and maritime security.