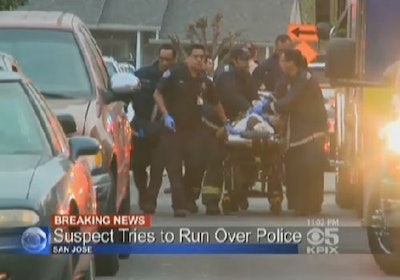 A man driving a stolen car who rammed pursuing police cars and then accelerated directly toward an San Jose (Calif.) Police officer on foot was shot and killed Monday night, officials said.
Two unmarked police cars began following the stolen vehicle around 6:45 p.m., in the area of S. White Road in East San Jose, according to Sgt. Jose Cardoza of the Santa Clara County Sheriff's Office, which is handling the investigation because it ended in an unincorporated area of the city.
Witnesses described the cars traveling onto Woodhaven Drive at high speed before turning on Athene Drive, where the suspect put the car into reverse and backed into a police cruiser and a parked car.
Read the full San Jose Mercury News story.