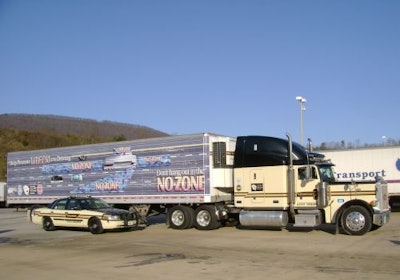 A group of Tennessee Highway Patrol troopers stationed in Chattanooga have been using an innovative approach to catch traffic scofflaws who text or drink while driving. They've been using a heavy-duty truck.
Troopers with a commercial truck license have been taking out the Highway Patrol's 18-wheel Peterbilt tractor-trailer so they can see down into vehicles and catch moving violations.
"The purpose of the truck is to educate drivers to safety drive with trucks," Jennifer Donnals, a Highway Patrol spokeswoman, told POLICE Magazine. "They're taking this truck and repurposing it for this campaign."
The Highway Patrol's Lt. John Harmon headed up the initiative as part of his "Stay Alive on 75," a program to raise awareness among motorists traveling Interstate 75 with heavy-duty trucks. The department operates what troopers call a "No Zone" truck so drivers can avoid entering a truck's blind spot.
Lt. Harmon was given approval to use the truck for highway interdiction. Of the 783 Tennessee troopers, 96 have a a commercial license. Many of those are Class A, which is required to operate an 18-wheel rig.
The agency seized the truck a decade ago from a marijuana trafficker and reformatted it for safety education work. The rig was painted to look like one of the patrol cars. A lightbar was affixed to the roof. And radio equipment has been installed in the cockpit.
"We were driving down the road and watching people text and drive," Lt. Harmon said. "We realized we could see everything up here."
The Highway Patrol doesn't make traffic stops with the truck. Instead, troopers radio ahead for a trooper in a patrol car to pull over the suspected violator. A second trooper rides in the truck's "jump" or passenger seat to operate the radio.
By Paul Clinton