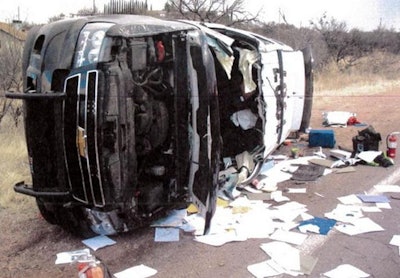 An Arizona deputy sheriff is recovering, after rolling over his Chevrolet Tahoe police vehicle while responding to a call of a gas leak at a family's home.
Santa Cruz County Sheriff's Deputy Jorge Ainza, a six-year veteran, became trapped inside his vehicle at 5:49 a.m. early Saturday. The agency had received the call for service several minutes earlier from a residence on Paseo Mascota. The caller said there were young children in the home who were unresponsive when parents tried to wake them.
Deputy Ainza lost control of his Tahoe while traveling east on Ruby Ridge just past railroad tracks. He had activated his lights and sirens. The vehicle rolled 3 1/2 times, according to the agency.
Rio Rico Fire Department personnel arrived and after 40 minutes were able to safely extract Deputy Ainza from his vehicle. He was flown to University Medical Center in Tucson for medical treatment.
Related: