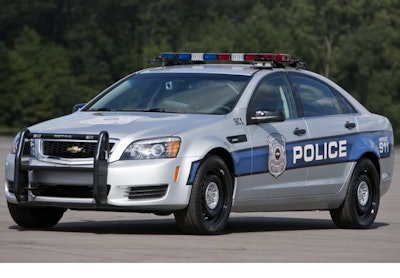 General Motors added a column-mounted shifter and other upgrades to the 2014 Chevrolet Caprice PPV for law enforcement officers, the company announced Wednesday.
Chevy engineers added the column-mounted shifter to the 2014 model-year Caprice—the patrol car is now in its fourth model year—at the request of numerous police fleet managers. Officers in general are more confortable with column-shifters, and the configuration enables easier installation of equipment.
GM announced details of the 2014 Caprice at a police vehicle trade show in Fort Worth.
The 2014 Caprice will also include increased use of high-strength steel throughout its structure to bolster roll-over protection. Redesigned front seat-mounted side airbags will reduce the risk of pelvic injury up to 30 percent, according to GM.
The automaker will also increase hip room to 57.5 inches and add a new driver's seat specifically sculpted for a duty belt. The previous seat included cutouts for a police sidearm.
Other upgrades include a "surveillance mode" circuit that darkens interior lighting for inconspicuous operation. The automaker added new electric power steering, a front stabilizer bar, and larger front struts to improve corning and stability.
For technology upgrades, GM will offer its seven-inch MyLink touch-screen radio with Bluetooth streaming audio and cell-phone connectivity. Trunk-release buttons have been added to the driver- and passenger-side doors.