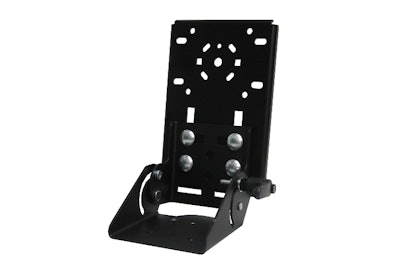 Gamber-Johnson has introduced a new mount designed for tablet and display computers.
The Tablet Display Mount can mount a tablet or display computer close to a patrol vehicle's dashboard using an upper pole without the need to reconfigure the dash or relocate the OEM controls on the instrument panel, according to the company.
It contains standard hole patterns, including AMPS, NEC, VESA 75mm and Gamber-Johnson's 2-by-4 patterns, to allow various tablets and display computers to attach directly to the mount. The mount also has height adjustment capabilities to accommodate tablets, displays and docking stations with different heights.
Gamber-Johnson also designed a keyboard tray that attaches to the display mount using Quad-Motion TS3, Quad-Motion TS5 or the Mongoose sliding motion attachments. The tray contains a quick release feature to remove the keyboard from the tray for use.