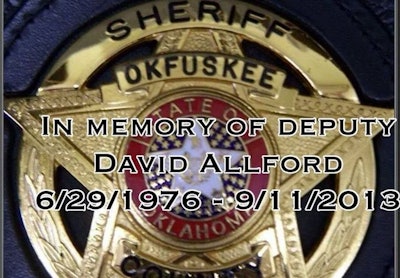 An Okfuskee County (Okla.) Sheriff's deputy died Wednesday in a rollover crash while responding to assist a state trooper attempting to arrest a drunk driver.
Deputy David Allford, 37, was heading west on Interstate 40 when the front left tire on his marked Chevy Tahoe suffered a blowout, causing the deputy to lose control of the vehicle, reports KFOR. The Tahoe left the roadway, struck a cable barrier, and overturned. Deputy Allford was thrown from the vehicle and died at the scene.
Allford, a U.S. Army veteran, had been a police officer in Oklahoma since 2000. He leaves behind a wife and two children.
"Words cannot express the depth of our sorrow and we ask you to join us in praying for David's wife Becky and their two children Shelby and Wyatt," Sheriff Jack Choate said in a statement.