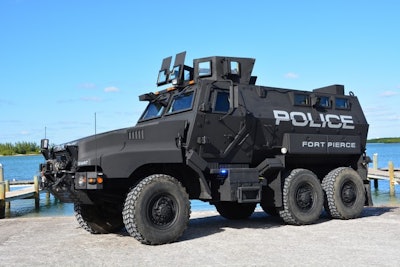 The Fort Pierce (Fla.) PD now has a 61,700-pound armored vehicle, which will transport SWAT officers and serve as a command center during emergencies, NBC Miami reports.
The used Mine-Resistant Ambush Protected (MRAP) vehicle was bought for $2,000 from the defense department's Law Enforcement Support Office. A new one would have cost $700,000, the Fort Pierce Police said.
"Hopefully, we'll never need the MRAP, but knowing that it is ready to roll is comforting," the Fort Pierce Police said on their Facebook page. "Chief Baldwin has some advice for anyone that may find themselves facing the MRAP on the wrong side of the law, 'If you see my SWAT team roll up in this thing… it's over, so just give up.'"