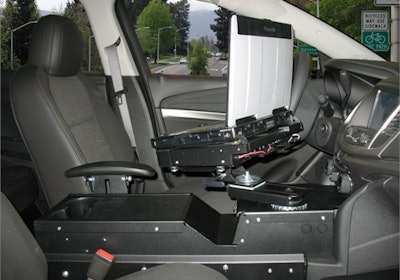 Gamber-Johnson's new Vehicle Specific Console Box is made to fit the re-designed 2014 Chevrolet Caprice Police Patrol Vehicle (PPV).
The shifter in the new Chevrolet Caprice PPV is now positioned on the steering wheel column instead of the center console. To take advantage of this re-design the Gamber-Johnson Vehicle Specific Console Box now extends all the way to the dash, creating a mounting platform for a computer/tablet to be center mounted. This re-design means the console box can now accommodate one full-sized radio/device in the vertical, angled section. Due to a high transmission hump the console box is still designed to work with radio control heads in the horizontal section to allow for passenger side egress in an emergency situation.
Gamber-Johnson's new mounting platform has been designed with two different hole patterns and locations. The first mounting pattern is the Gamber-Johnson "smiley face" pattern that accommodates any Gamber-Johnson Motion Attachment or the Tablet Display Mount and allows for rotation/swivel movement. The smiley face is off-set toward the passenger, which allows for movement from driver to passenger side viewing access. Gamber-Johnson recommends the 6-inch Locking Slide Arm (7160-0502) for a Motion Attachment.
The second mounting pattern is for the Gamber-Johnson Mongoose and 6-inch Locking Slide Arm Motion Attachments. A series of three bolt holes allow for the Mongoose or 6-inch Locking Slide Arm to bolt directly to the mounting platform. The three bolt holes are off-set toward the driver, giving the driver access to move the computer closer to him or her when needed.
About Gamber-Johnson
In business since 1954, Gamber-Johnson is a market leader of rugged docking stations and vehicle mounts, and a member of the Leggett & Platt Commercial Vehicle Products (CVP) Group. Customers of all sizes – state and local governments, transportation, field service organizations, and mobile professionals – rely on Gamber-Johnson's vehicle mounting systems and docking stations on a daily basis. Gamber-Johnson vehicle mounting systems are installed in thousands of fleets worldwide. www.gamberjohnson.com.