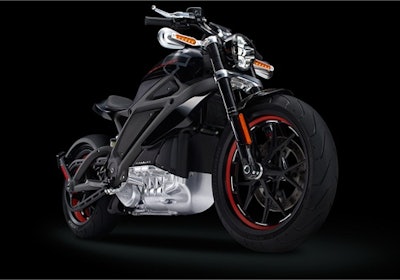 A prototype for what could become the first Harley-Davidson electric motorcycle is being launched next week for Harley enthusiasts to test ride and give the company their feedback, Harley said today.
It's a process that will take months, or even years, and there's no guarantee Harley-Davidson will ever build an electric bike for mass production. Still, Project Live Wire is a big step forward for the company and the motorcycle industry that, for the most part, has been tied to the internal combustion engine for more than a century.
While the bikes that will be introduced next week, starting in New York and Milwaukee, are not for sale, they will log thousands of hours of road time in demo rides across the country and overseas.
"Customers will tell us what they think it will take to make a great electric motorcycle. I am sure we will discover things that we cannot anticipate right now," Mark-Hans Richer, senior vice president and chief marketing officer of the world's largest manufacturer of heavyweight motorcycles told the Milwaukee Journal-Sentinel.
"It's an opportunity to learn, and we will see where it goes," Richer added.
Harley hasn't revealed the technical specifications of the prototype bikes, but for sure they won't have the syncopated "potato, potato, potato" rumble that resonates from the company's V-Twin engines.
For the electric motor sound, "Think fighter jet on an aircraft carrier. Project Live Wire's unique sound was designed to differentiate it from internal combustion and other electric motorcycles on the market," Richer said.