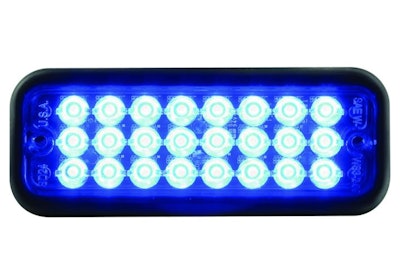 Code 3's new SD24 LED is a thin, surface mount LED light that fits in almost any location on a vehicle's exterior. Its small footprint allows it to be mounted to locations such as push bumpers, rear bumpers, license plate areas, and running boards while its slim design keeps a low-profile look. The SD24 also comes with low current draw (0.75 amps) and long maintenance-free service life.
With 24 (1) Watt High-Intensity LEDs, the SD24 provides a powerful warning signal to alert motorists of an officer's presence. Additional features on the SD24 include 16 flash patterns, in-line waterproof driver module, UV stabilized polycarbonate lens, and a pre-wired 9-foot cable. The SD24 comes in red, blue, amber, white or green LEDs, and is synchronizable with additional lightheads.
The SD24 is 3.3" W x 1.1" H x 0.4" D, comes in 12/24 Volt, meets SAE J595 Class I in amber, blue, red, and white, and meets CA T13 in amber, blue and red when properly configured, and also comes with a five-year LED warranty.
For more information, visit www.code3pse.com or call Code 3 Customer Service at (314) 426-2700.
Established in 1974, Code 3 Inc. designs and manufactures a complete line of emergency lighting and warning products for police, fire, emergency response, utility and industrial applications in St. Louis, Mo. Code 3 Inc. is part of the ECCO Safety Group.