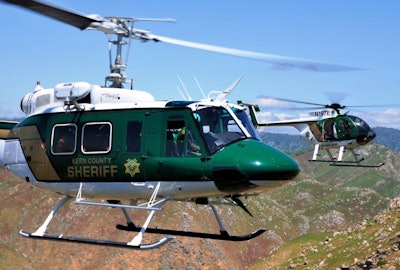 Brett Lee Scott, 26, of Buttonwillow, Calif., has been sentenced to one year and nine months in prison, to be followed by three years of supervised release, for aiming a laser pointer at a law enforcement aircraft because he was "bored," United States Attorney Benjamin B. Wagner announced.
According to court documents, Scott used two different laser pointers to strike Air-1, a Kern County (Calif.) Sheriff's Office helicopter, over a six-month period. The lasers emitted powerful green or purple beams. As a result, the pilots of Air-1 suffered flash blindness that lasted a few minutes, causing disorientation.
The pilots were ultimately able to pinpoint the origin of the beams and, with the help of patrol deputies, identified Scott as a suspect. Both laser pointers in this case exceeded the legal power emission limit. One of the lasers was 17 times more powerful than what is legally permissible.
"This is a truly senseless crime, and a very serious one," said U.S. Attorney Wagner. "Defendants like Mr. Scott, who thoughtlessly point lasers at an aircraft for their short-sighted amusement, put lives at risk and create the very real possibility that a needless tragedy will occur. My office will continue to prosecute these cases vigorously and will work with the FBI and our local law enforcement partners to send the message that this behavior will not be tolerated."