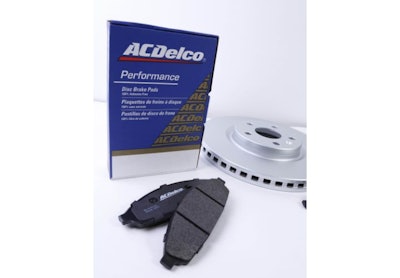 When it comes to high-stress, severe-duty driving, nothing beats police duty. ACDelco Professional DuraStop Police Brake Pads and Rotors are made to deliver the durable, confident performance officers can count on.
They are designed for and made of materials selected expressly for the heavy-duty driving applications of police cars. The pads, for example, have a distinctive compound and are attached to the backing plate with a stronger bond to help prevent separation that can occur with the high temperatures generated by some types of police driving. They're also made with a constrained layer shim that helps reduce noise.
The rotors are designed with a distinctive vane configuration that optimizes airflow to help dissipate heat, while their damped iron material is sturdy and helps reduce noise and vibration. The rotors are also treated with a polymer binding coating that protects against corrosion and enhances durability.
ACDelco Professional DuraStop Police Brake Pads and Rotors are offered for all popular police vehicle models. Learn more by visiting www.acdelco.com.
About ACDelco
ACDelco is the exclusive Original Equipment parts brand for Chevrolet, Buick, GMC and Cadillac, as well as provider of premium aftermarket parts for most other makes and models. Other available applications include off-road, marine and industrial. To find an ACDelco Professional Service Center program participant or parts retailer, visit acdelco.com or call 1-800-ACDELCO. Find ACDelco on Facebook, YouTube, Instagram and Twitter.