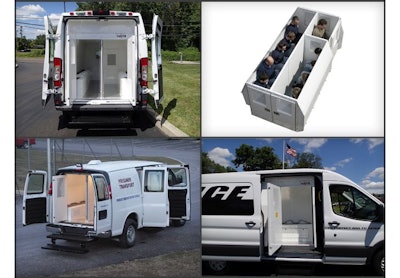 Havis Inc., an ISO 9001:2008 certified company, has announced new prisoner transport inserts, accessories and a configurator. Through its continued collaboration with vehicle OEM partners, Havis designed prisoner transport systems specifically for the latest standard and long length Ford, Chevrolet, Dodge Ram, Nissan NV and Sprinter vans. These high-quality inserts are available in 80-, 100-, and 120-inch lengths with one, two, or three compartments for safe and secure transport of up to 12 prisoners.
Havis Prisoner Transport Systems are constructed primarily of aluminum and feature a "super durable" white powder coat finish for premium cleaning capability and improved visibility within the insert. Unlike inserts that are built with heavier materials, which will wear down brakes and lower gas mileage, Havis inserts utilize a lighter weight and structurally engineered aluminum design for maximum security and for minimum stress on the van chassis.
This proven design includes standard safety features such as emergency exit hatches and heavy-duty "slam latch" doors, which maximize security by automatically locking the compartment when the door is shut. Non-slip benches and grab straps also come standard to help prisoners stay safely seated during transport.
In addition to these standard safety features, Havis strongly advises that departments order an OEM HVAC System Vent Adapter or Aftermarket Heat/Cooling System, which regulates the temperature within the insert and helps prevent medical emergencies such as heat stroke. Proper insert ventilation will also create positive airflow for a more comfortable vehicle interior.
Havis also offers a wide array of recommended accessories to complete any prisoner transport solution and enhance officer and passenger safety. The video system option lets officers view each compartment, and the audio visual alarm alerts them when the rear compartment doors are open. Additional accessories include seat belts and seat dividers, a roof power vent, a rear flip-down step and load light, sound deadening insulation, underbench storage, an intercom system, a meal pass-through door, and more.
With the new Havis Prisoner Transport Configurator, fleet managers can easily select an insert and compartment configuration for their specific transport van, as well as a recommended heating and cooling system. They can also add a variety of accessories to their solution and even see the compatible Havis equipment console for their van.
Havis Prisoner Transport Inserts are built specifically to protect and assist officers while loading, transporting, and unloading prisoners. With a dedicated prisoner transport vehicle, departments can keep patrol cars on the road and more productive. These vehicles can also be utilized for moving barricades, cones, bikes, or large evidence.
Since they are bolted, not welded, during installation, departments can reduce costs by easily transferring their Havis inserts into new compatible vans.
To learn more about Havis Prisoner Transport Solutions and access the new product configurator, please visit https://www.havis.com/prisoner-transport.
Havis Inc. is a privately held, ISO 9001:2008 certified company that manufactures in-vehicle mobile office solutions for public safety, public works, government agencies and mobile professionals. For over 80 years, the Havis mission has been to increase mobile worker productivity with industry-leading products that are built to the highest safety and quality standards and are designed with comfort in mind. Headquartered in Warminster, Pa., with an additional location in Plymouth, Mich., Havis currently employs 200 people. For more information on Havis, please call 1-800-524-9900 or visit www.havis.com. Stay up-to-date on the latest products and announcements from Havis through the Havis Equipped Blog, LinkedIn and Facebook.