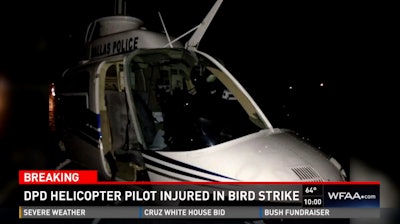 A Dallas Police Department helicopter was forced to make an emergency landing Monday night after hitting a bird over Lake Ray Hubbard.
Police spokesman Maj. Max Geron said the pilot suffered minor injuries when the windshield shattered on impact when it struck an American coot, a duck-like waterfowl also known as a mud hen.
The co-pilot was able to safely land the aircraft and the pilot was taken to Baylor University Medical Center for treatment of cuts to the face and arms, WFAA TV reports.